Forever Best Friends
Six collectible fashion dolls with trendy accessories that represent the theme of close friendship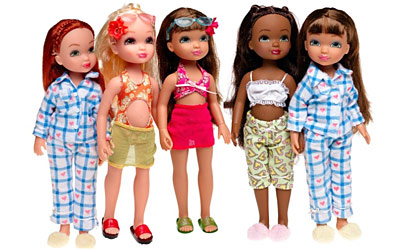 Whether it's listening to cool tunes or playing your favorite board game, nothing's as fun as chilling with your new Best Friends dolls, Dianthe, Akire, Brianee, Noelle, Calista, and Sana.
Six collectible fashion dolls with trendy accessories that represent the theme of best friends. The dolls can lock hands in friendship.
Party it up and groove on down at the coolest celebration of the year.
The Forever Best Friends dolls can have fun at the fair with their bumper cars. Not only does each best friend get to ride in their very own car, but they have super bouncy bumpers so that they can bounce, bang and bump each other's cars while having all the fun in the world.
Fashion dolls and regular dolls both provide opportunities for imaginative play, but they differ in design, purpose, and the type of engagement they offer. Here are some key distinguishing features:
Focus on Fashion: Fashion dolls emphasize contemporary fashion trends, hairstyles, and accessories. They often come with multiple outfits and accessories, encouraging kids to engage in style-based imaginative play.
Customizability: Many fashion dolls allow for easy customization, from changing clothes and shoes to swapping out hairstyles or even facial features. This provides a level of personalization and engagement that might not be as prominent in regular dolls.
Lifestyle Elements: Fashion dolls often come with playsets that mirror aspirational or trendy lifestyles, such as chic apartments, fashionable boutiques, or luxury cars. These elements help children act out more nuanced social scenarios.
Adult-like Proportions: Fashion dolls are often designed with adult-like body proportions, whereas many regular dolls are modeled after babies or children. This difference impacts the type of role-playing kids engage in, with fashion dolls often used to act out adult roles and scenarios.
Brand and Storylines: Fashion dolls often belong to specific brands that come with their own storylines, characters, and sometimes even multimedia tie-ins like TV shows or movies. Regular dolls might not have this level of branding or storytelling involved.
Material and Craftsmanship: Fashion dolls are often made with a focus on intricate detailing to mimic fabrics, hairstyles, and accessories realistically, whereas regular dolls might be made more durably with less emphasis on fashion elements.
Collectibility: Limited editions, seasonal releases, and collaborations with fashion designers make fashion dolls highly collectible, often appealing to both children and adults.
While both types of dolls can enrich a child's playtime, fashion dolls offer a particular focus on style, customization, and social role-playing that sets them apart from their regular counterparts.