Fossil Hunting Kit
Expedition Fossil Hunting Kit - Tyrannosaurus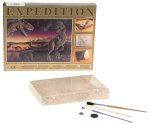 Dig into the past! Excavate, restore, and display the skeleton of Tyrannosaurus Rex.
Children who love dinosaurs often find themselves particularly drawn to the Tyrannosaurus Rex, one of the most iconic and well-known dinosaurs. Here's why the T-Rex captures their imagination:
Size and Appearance: The T-Rex was one of the largest carnivorous dinosaurs, with an impressive stature and fearsome appearance. Its massive jaws, sharp teeth, and powerful build make it an awe-inspiring figure for children.
Pop Culture Presence: The T-Rex has been prominently featured in movies, television shows, books, and toys. Its consistent presence in pop culture has made it a recognizable and beloved symbol of the dinosaur world.
Mystery and Exploration: Despite being one of the most studied dinosaurs, the T-Rex still holds many mysteries. Children are often drawn to the unknown, and the T-Rex provides an opportunity for exploration and discovery.
Role as a Predator: The T-Rex's reputation as a fearsome predator adds to its allure. Children are often fascinated by predators and the natural world's food chain, and the T-Rex represents an apex predator in the dinosaur era.
Connection to Paleontology: The T-Rex has been a significant focus of paleontological research. Children interested in dinosaurs may learn about the scientific methods used to study the T-Rex, further fueling their curiosity and interest.
Symbol of Extinction: The T-Rex, like all dinosaurs, represents a bygone era. Its extinction story can lead to discussions and learning about natural history, evolution, and environmental changes.
Inspiration for Creativity: The distinctive appearance and characteristics of the T-Rex can inspire creativity in children. They may draw, build models, or create stories centered around this captivating dinosaur.
The Tyrannosaurus Rex's combination of physical attributes, cultural significance, and scientific importance makes it a compelling figure for children. Its ability to inspire curiosity, creativity, and learning continues to make the T-Rex a favorite among young dinosaur enthusiasts.