Fun Hop Bounce Ball With Handle
Fun Hop bounce ball has a strong handle with a good grip - kids love to bounce on it.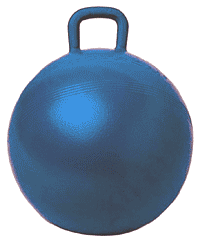 Every child knows this much about evolution: somewhere, way, way back, we were kangaroos. All you need to satisfy the deep primal desire to get around by hopping is one of these big, heavy-gauge vinyl hopping balls. The slightly stippled surface of the blue vinyl provides plenty of grip, and the ball inflates to over 53 inches in circumference, so it can accommodate different sizes of human Roo. The best feature of this model is a large, solid, arch-shaped handle so that you can hang on across long stretches of rough outback. A pump is required.