Fur Real Friends For FurReal Kittens
Convincingly like a real cat.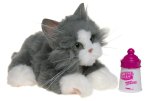 Fur Real Friends is a magical line of electronic plush cats that when touched convincingly duplicate and mimic a real cat. Fur Real Friends has a pet sensor on its back that triggers realistic padding and kneading movements. The sensors are strategically placed to induce a natural interaction between child and cat. The more you love and play with your Fur Real Friend the more it will respond and love you back. Fur Real Friends respond by purring and meowing. Fur Real Friends are so amazingly close to a real cat, you won't even know the difference.