Game of Twister by Milton Bradley
The Game of Twister by Milton Bradley is one of the great classics.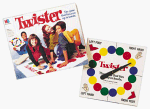 For generations people have been playing Twister and watching their friends and family contort their bodies in ways never imagined. That's what happens when your left foot is on a red dot and the spinner tells you to put your right hand on a yellow. This Milton Bradley classic game is fun for kids and adults alike. For 2 to 4 players, ages 6 and up. It's the game that ties you up in knots! Twister has been around forever, and it's still as much fun as you remember. The game box contains a spinner, a plastic mat marked with colored circles, and the rules, which are brief. You don't need anything else except a group of friends. A referee spins the spinner to come up with a color and whether a hand or a foot is to be placed in a circle of that color. It's easy at first, but after four or five spins you'll be more tangled than a plate of spaghetti. If you fall, or if any part of you except a hand or a foot touches the mat, you're out, and the last player left is the winner. If you're looking for something to break the ice at parties, this game is it.