Gator Golf Alligator Game
Gator golf game for kids.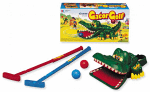 With Gator Golf, any time is tee time! The goal is to sink your putt into the gator's mouth. When the ball is hit through the mouth and into the gator's tail, he will flip the ball out of his tail and spin around, leaving your ball and your target (his mouth) in a new position. Wherever the ball stops is your position for your next turn. There is a built-in score marker on each putter. Players take turns putting. You get one point every time you sink a putt. First player to score four points wins!