Geomag Magnetic Construction Toy
Full magnetic rods and chromed steel spheres that allows children to create an infinite number of shapes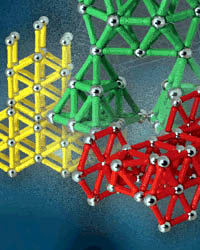 In 2003, Jonic Distribution North America awas granted exclusive rights by Geomag SA to distribute the Geomag toy building system throughout North America.
Aimed at children ages 3 and up, Geomag is a magnetic construction toy composed of full magnetic rods and chromed steel spheres that offers unsurpassed quality, durability, magnetic strength and versatility. Invented and developed by Claudio Vencentelli in 1995, Geomag is unlike other rigid construction toys in that its magnetic sphere construction allows figures to be flattened and stretched. An award-winning product line, Geomag is currently ranked second in the European construction toy category.
The agreement builds upon the momentum and positive response generated for the line in North America over the past several years and leverages Jonic Distribution North America Inc.'s extensive distribution expertise and superior service.
"It's a great privilege to represent Geomag, the original magnetic construction toy, on an exclusive basis to toy and specialty retailers across North America," said Andrew McCarthy, director of market development. "Our focus over the next 12 months will be to significantly expand the availability of the Geomag line throughout the U.S., Canada and Mexico, and have our 45-person sales force assist retailers with sell-through activities."
Produced in a new, state-of-the-art factory in Switzerland, Geomag conforms to the strict European Community's standards for toy product safety. The product line consists of Geo (primary colors), Geometal (metallic colors) and Geoglow (glow in the dark) and is available immediately.
How Magnetic Construction Toys Teach Children
Enhancement of Motor Skills: By manipulating magnetic pieces, children develop fine motor skills and hand-eye coordination.
Understanding of Geometry and Spatial Awareness: Building with magnetic shapes introduces children to geometric concepts and spatial relationships.
Introduction to Science Concepts: Exploring magnetic properties fosters curiosity about physics and the natural world.
Creativity and Imagination: Magnetic construction toys allow for open-ended play, encouraging creativity and imaginative thinking.
Problem-Solving Skills: Designing and constructing structures require critical thinking and problem-solving, essential cognitive skills.
Collaboration and Teamwork: Working on shared projects promotes collaboration, communication, and teamwork.
Independence and Confidence Building: Successfully creating structures fosters a sense of accomplishment and builds self-confidence.
Understanding of Symmetry and Balance: Building with magnetic pieces teaches children about symmetry, balance, and structural integrity.
Multi-Sensory Learning: The tactile nature of magnetic construction toys caters to different learning styles, providing a multi-sensory educational experience.
Connection to STEM Education: Engaging with magnetic construction toys can spark an interest in STEM (Science, Technology, Engineering, Mathematics) subjects, providing a fun introduction to these fields.