Gooze - Gooz
Kids love gooze, but you must watch where it goes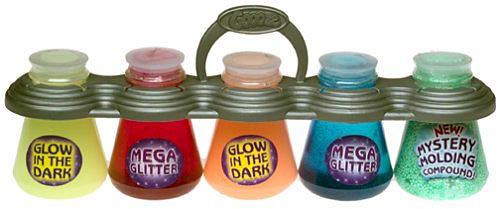 Modern kids like gooze the way other generations liked play doh and clay before them. Gooze is the amazing substance featured on Nickelodeon. This safe, non-toxic substance makes a fun gift that entertains children for hours. Gooze sparkle, metallic, and glow in the dark.
Nickelodeon Gooze Transporter Pack - When it comes to keeping children happily entertained for long stretches of time, this package of Gooze has got to be one of the most affordable hits on the market. A group of 9- and 10-year-old testers spent over an hour delightedly molding, squeezing, stretching, and bouncing these gooey compounds.
The most popular activity was using straws to blow bubbles into the gooze. The five-pack includes two containers of "mega-glitter" Gooze (a slippery, translucent compound with fine flakes of glitter), two "glow in the dark" (translucent neon colors) containers, and one "mystery molding" compound (a stiffer putty with tiny white flecks).
Warnings on the package
Kids love gooze, but here are some of the warnings on the package:
Keep away from face and hair.
Avoid contact with carpeting and other fabrics.
Remove Gooze from carpeting or fabric as soon as possible.
How to clean Gooze out of a carpet
Remove excess Gooze from carpeting.
Moisten area with sponge and hot water.
As Gooze Softens, remove remaining compound with light brushing.
If stain remains apply carpet stain remover.
Note: some carpeting may stain permanently, no matter what you do.