Grow With Me RC Rally
Grow With Me R/C Rally by Fisher-Price.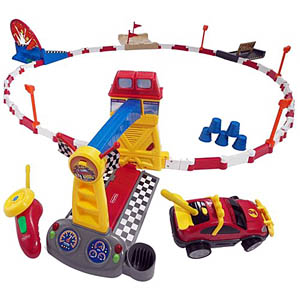 RC track system that grows with the skills of your child. In mode 1, beginners experience error-free driving around the track and obstacles as the unique, new Guide-Zone technology keeps the car on course. In mode 2, experienced drivers drive away from the track with full control of steering, speed and direction. Comes with RC car and controller, 3 moveable obstacles, 1 grand stand with electronic sounds, and 14 feet of flexible track for easy and endless configurations. Everything snaps together for storage.
An R/C racing playset delivers thrills and excitement that are hard to match for young children. It allows them to take control of miniature cars, steering them through intricate tracks, around sharp turns, and even through loop-de-loops. This gives kids the power and autonomy they often crave, all while helping them develop hand-eye coordination and fine motor skills. The playset usually features easy-to-use controllers tailored for small hands, making it simple for kids to navigate the cars. Often, these sets also offer varying levels of difficulty and features like turbo boosts, jumps, and obstacles, ensuring that the playset continues to challenge and entertain as the child's skills improve. Whether playing solo or with friends, the joy of 'racing' these small cars around a track they can set up themselves provides endless hours of imaginative play.