Guess What Elmo
Guessing is always fun just like on Elmo's World.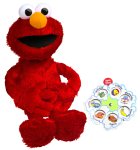 Guess what Elmo is thinking about today? Every day for 7 days Elmo will have a new topic to talk about-just like he does on the show. A magical time clock inside Elmo allows him to announce the topic of the day, say fun phrases, and ask lots of silly questions about that particular theme. Each day when you play with him he will talk about one of the following- shoes, hats, balls, birthday cakes, bugs, bananas and crayons (Elmo will start to repeat the topics after the seventh one). Not only does this adorable plush Elmo talk the way he does on Elmo's World but he looks & moves like he does on the show too. Guess What Elmo is made out of soft, shaggy plush and has long lanky arms and legs. Elmo's mouth also moves as he talks & sings the Elmo's World Theme song.
Elmo, the iconic red Muppet from Sesame Street, has captured the hearts of children and adults alike for generations. One of the key reasons for Elmo's widespread appeal is his childlike innocence and boundless curiosity, which resonates with young viewers. Elmo speaks in the third person and has a simplified way of understanding the world, making it easier for children to relate to him. His segments on Sesame Street often revolve around exploring basic concepts and emotions, helping children learn in a fun, engaging manner. The character's friendly demeanor, high-pitched voice, and infectious giggle make him instantly recognizable and approachable. Furthermore, Elmo often interacts with both Muppet friends and real children on the show, emphasizing inclusivity and community. His ability to engage with complex topics in a way that is accessible and comforting to young minds has solidified Elmo's place as a beloved icon in children's entertainment.