Hardwood Color Blocks
200 Colored Wood Blocks.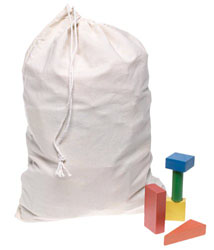 200-piece set. Blocks build important motor skills, help critical thinking, and stimulate creative imaginations in children. Kids can work independently or cooperatively to create big construction projects. Two 7-year-old testers enthusiastically built a town for their figurines and stuffed animals. Covered in nontoxic paint, these hardwood blocks come in different shapes for imaginative building: an arch, a semicircle, round and square pillars, a triangle, a rectangle, and a square. Included is a cloth storage bag, which is handy for travel, but it's a better bet to store all 200 blocks in the sturdy cardboard packaging that doubles as a carrying case.
Unstructured sets of multi-color hardwood building blocks offer an open-ended playground for a child's imagination. Unlike specialized building kits that aim to create a specific item, these simple, tactile, and durable blocks invite endless possibilities, allowing children to be the architects of their own worlds. Whether constructing towering skyscrapers, creating intricate mazes, or building fantasy castles, the creative freedom is limitless. The variety of colors can also be an avenue for teaching kids about sorting, matching, and even basic principles of art like color theory. The hardwood material gives a satisfying heft and stability to their constructions, while also providing a sensory-rich experience. Moreover, these blocks are excellent tools for developing spatial reasoning, problem-solving skills, and fine motor coordination. The fun lies in both the process and the outcome, making these blocks an evergreen toy that can entertain and educate for hours on end.