Hebrew Alphabet Puzzle
Hebrew alphabet learning toy.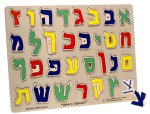 A great way to share the Hebrew alphabet with a child.
Hebrew Alphabet Puzzles are educational tools designed to help children learn the Hebrew alphabet in an interactive and engaging way. These puzzles provide a hands-on approach to learning, making the process of mastering the Hebrew alphabet enjoyable and effective. Here's how Hebrew Alphabet Puzzles contribute to teaching the Hebrew alphabet to children:
Letter Recognition: By working with individual puzzle pieces representing each Hebrew letter, children become familiar with the shapes and forms of the letters, aiding in visual recognition.
Letter-Sound Association: Many Hebrew Alphabet Puzzles come with accompanying audio or visual aids that pronounce the letters. This helps children associate the visual form of the letter with its corresponding sound, an essential step in learning to read and write.
Hand-Eye Coordination: Assembling the puzzle requires careful placement of each letter piece, enhancing children's hand-eye coordination and fine motor skills, which are vital for writing.
Sequential Learning: Hebrew Alphabet Puzzles often present the letters in order, allowing children to learn the sequence of the Hebrew alphabet, which is crucial for understanding the language structure.
Cognitive Development: Solving a puzzle engages various cognitive skills such as problem-solving, attention to detail, and logical thinking. These skills are not only essential for language learning but also contribute to overall cognitive development.
Cultural Connection: For children learning Hebrew as part of their cultural or religious education, Hebrew Alphabet Puzzles provide a connection to their heritage, making the learning experience more meaningful and relevant.
Interactive and Fun: Turning the learning process into a game makes it more appealing to children. The interactive nature of puzzles keeps children engaged and motivated, turning a potentially challenging task into an enjoyable activity.
Hebrew Alphabet Puzzles are a valuable educational tool for teaching the Hebrew alphabet to children. They offer a multifaceted approach that combines visual recognition, auditory association, motor skills development, sequential learning, cognitive enhancement, cultural connection, and interactive fun. By providing a stimulating and enjoyable learning environment, Hebrew Alphabet Puzzles encourage children to explore and master the Hebrew alphabet, laying a strong foundation for further language learning.