2004 Hess Toy Trucks
Hess Trucks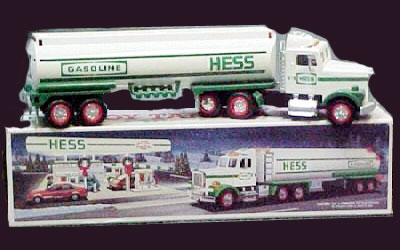 Hess Toy Trucks are only sold at special Hess locations. They started selling this year on Friday, November 14, 2003.
The demand is usually so great that stocks sell out rapidly.
Hesstoytruck.com is the official Hess Toy Truck information site. On it, you will find dealer locations near you, Hess truck history, and the Hess truck photo gallery. You will also find sections on Hess mini trucks and special Hess Trucks.
Vintage Hess diecast trucks are also widely traded and collected.