Hooked on Phonics Toys
Letter and phoneme recognition and identification tasks

Hooked on Phonics is a well-known educational program designed to teach children to read.
Phonics-Based Learning: The system used a phonics-based approach to teach children the relationship between letters and sounds, aiding in reading development.
Structured Lessons: Hooked on Phonics provided a step-by-step learning process, with lessons building on previous skills to promote gradual mastery.
Interactive Materials: The program included interactive books, flashcards, DVDs, and games to engage children in a multisensory learning experience.
Age-Appropriate Content: Different levels of the program were tailored to various age groups, ensuring that content was suitable and engaging for each child's developmental stage.
Parent Involvement: Designed for use at home, Hooked on Phonics encouraged parental involvement in the child's learning process, fostering a supportive learning environment.
Support for Struggling Readers: The program was often used to assist children who were struggling with reading, providing additional support and practice.
Adaptation to Technology: Over time, Hooked on Phonics adapted to new technology, offering digital apps and online resources to complement traditional materials.
Recognition and Awards: Hooked on Phonics received recognition and awards for its effectiveness in promoting literacy and reading skills.
Accessibility: The program was made available in various formats and price points, making it accessible to a wide range of families and educational settings.
Emphasis on Fun and Engagement: By incorporating games, songs, and colorful visuals, Hooked on Phonics made learning to read a fun and engaging experience for children.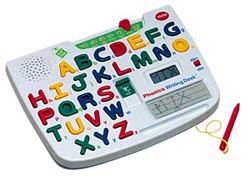 Phonics Writing Desk - This laptop-sized desk emphasizes writing skills, but it is also an effective phonics tool. Children can learn letter recognition and identification tasks, phoneme identification and recognition tasks through an introduction to short vowel sounds embedded in three-letter words. Many electronic games have poor sound quality, making auditory letter discrimination difficult, but the sound in this system is crisp, clear, and full of repetition and inflection. The writing exercises are short, simple, and fun. The child composes the lines and circles that form letters using an appropriately sized plastic "pen," which helps improve fine motor skills and builds self-confidence. The computerized writing style offered may not be the style taught in school, but it provides a foundation for future learning. Left-handed students may find the position of the cord-anchored pen cumbersome. This is one of the few hands-on phonics tools that includes both lowercase and uppercase letters in its repertoire. Identifying lowercase letters is an essential part of learning to read, as most text is printed with lowercase letters.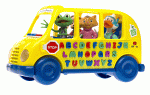 Fun and Learn Phonics Bus - The interactive Fun and Learn Phonics Bus combines friendly talking characters, songs, and lights to help children learn the letters of the alphabet and the sounds they make. Players can choose one of four games, such as Learn a Letter, Find a Letter, and Find a Letter Sound. The Phonics Bus motivates little ones to follow oral directions, and the characters provide helpful clues and encouragement. Raised plastic alphabet letters on the side of the bus are easy to press, and youngsters can practice tracing each letter shape with a fingertip. A 20-month-old tester loved rolling the sturdy vehicle around the house, and constantly pressed letters to hear the various melodies play in the music game mode. As they grow, kids will be ready for the more advanced learning game options.
Ready to Read Phonics Deluxe Edition - Whether you're home-schooling or just supplementing your child's school reading lessons, the Ready to Read Phonics Program is likely to show results. The program combines a variety of methods that teach children to connect written letters with the sounds of words. This multi-modal approach is designed around 17 lessons, starting with "The Sound Alphabet" and ending with "Multi-Syllable Words." Using the "Hear-See-Say" method of teaching phonics, each lesson is narrated on audiocassette as the child follows along in a workbook. On the tape, an adult phonics coach and three children speak the sounds, words, and sentences in the lesson as the student sees and responds to instructions. The lessons are reinforced with several games and activities (a colorful set of "Alpha-Bat" cards, three read-along picture books, flash cards, letter tiles, and game boards and cards). Cassette player not included.
Alphabert the Ready to Read Robot - School readiness is so important these days that the new generation of early learning aids are specifically targeting important skills vital to a child's learning progress. Alphabert emphasizes reading fundamentals with 16 learning activities such as phonics, rhyming, spelling and special letter sounds. The ELA also features such traditional games as hangman, word search and word scramble, 26 melodies and sounds. Alphabert has a traditional looking keyboard with the keys arranged alphabetically in three rows; each key also offers a picture to remind children of words that start with that letter. The pop-up LCD screen is made to look like the mouth of Alphabert's face, making the ELA seem more like a toy to children. The ELA provides positive reinforcement for correct answers, which helps encourage use and self esteem. Such a learning toy stimulates self learning, individual work and problem solving skills. It also improves concentration skills.