Hotwheels Motorized Starter Set
Hot Wheels Super Start Set by Mattel.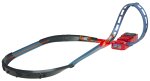 Though it's billed as a starter set, this curving and looping Hot Wheels track has all the components young racing fans will need to have an exciting afternoon of high-speed racing, jumping, and crashing fun. The set comes complete with high-wall flat tracks, curving transition tracks, and two half loops that fit together to form one upside-down stunt loop. A battery-powered power-charger booster sends your Hot Wheels cars careening through the track, and the included loop connection adds to the excitement by creating the potential for wild collisions when you have more than one car racing on the track at the same time. The set comes with one exclusively designed Hot Wheels vehicle, but you will have to purchase two D batteries separately to power up the power charger.
Hot Wheels, the iconic miniature toy cars introduced by Mattel in 1968, have left an indelible mark on generations of children and collectors alike. Their compact size, intricate details, and vibrant colors immediately caught the attention of young enthusiasts, sparking a fascination that has endured for decades.