Hotwheels Robo Wheels Crash Coaster
Hot Wheels Robo Wheels Crash Coaster Track Set.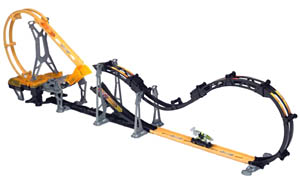 Let's face it: the most exciting aspect of a good Hot Wheels race is the inevitable crash. And while most Hot Wheels contests result in occasional off-the-track action, this Robo Wheels Crash Coaster makes the slam-bam excitement of head-on collisions and wild crashes the main event. To sweeten the deal, the set replaces your basic Hot Wheels cars with a specially designed Robo Wheels vehicle that can be converted into a cool-looking robot. The battery-powered track (which requires two D batteries, not included) also employs inverted loops that make near misses and upside-down racing a regular part of the fun. The twisting track comes with step-by-step, illustrated instructions for assembly, but some children may need help putting it together. Unfortunately, the track comes with only one Robo Wheels vehicle, but you can purchase additional vehicles separately, because what's the fun of racing if you have no one to compete with? Some Hot Wheels Robo Wheels vehicles cannot be used with the Crash Coaster Track, so parents should make sure additional vehicles are compatible with this track set before purchasing.
The collectibility factor of Hot Wheels has elevated them beyond mere toys to cherished collectibles. Limited editions, rare releases, and collaborations with pop culture franchises have turned Hot Wheels into sought-after items among enthusiasts who enjoy the thrill of hunting for unique pieces.