Inflatable Pool Water Toys
Blow them up and have a blast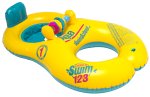 Swim School: Baby and Me Float by Aqua Leisure - Baby and Me Float gives babies and parents some quality face-to-face time in the water! All Aqua SwimSchool products are developed in conjuction with certified swim instructors. Level one products, like the Baby and Me Float, help baby overcome the fear of water and get used to the feeling of floating. The double laminated vinyl has a split ring on one end for mom or dad to stay afloat and close to baby. The opposite end has a baby seat with leg openings, a comfort tested seat back, and colorful play rings and balls to keep baby busy.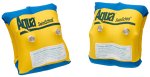 Swim School: Softouch Arm Floats by Aqua Leisure - Learn to Swim 1-2-3 is the original Aqua SwimSchool, developed in conjunction with certified swim instructors. Aqua's level three products, like these Deluxe SofTouch Fabric Arm Floats, are developed to help children learn basic swimming skills after they've overcome their fear of the water and learned to enjoy water play. Made of high visibility, comfort-tested stretch nylon over a rugged inner tube, these soft arm bands are non-chafing and oversized for extra inflation with double, no-leak air valves.
Inflatable pool toys bring an extra layer of excitement and creativity to any swimming experience. Whether it's a floating lounge, an inflatable animal, or even a water slide, these toys transform a simple pool into a playground of possibilities. For children, inflatable toys offer imaginative play, turning the pool into an ocean full of sea creatures or a pirate-filled adventure. The buoyancy and large size of some inflatables add a unique physical challenge, whether kids are trying to balance on a floating log or engage in a game of water polo with inflatable goals. Even adults find pleasure in floating on an inflatable lounger with a good book or a cold beverage. Easy to inflate and deflate, these toys offer convenience and are often made with durable materials to withstand the elements and rough play. All in all, inflatable pool toys amplify the fun factor, making every pool day a memorable one.