Insect Container
Creature Keeper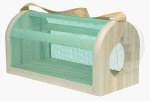 Bug and creature houses feature natural wood construction with lots of space to add rocks, plants, water and more. Create a perfect temporary home for favorite creatures. House comes with durable carrying strap. Kids who are fond of nature sometimes enjoy observing an animal or an insect at close range. This mailbox-shaped Creature Keeper makes that a relatively humane and easy activity. Made of natural wood and a fine, green netting, the container opens at one end, allowing for simple access, along with the easy removal of a beetle, a butterfly, or a praying mantis. One can also replicate a creature's customary environment by adding rocks, twigs, grass, and flowers to the box. A strap is attached to the top of the box for easy carrying. The container looks good and provides adequate, temporary housing for interesting critters.
Studying Insects: A Gateway to Science and Exploration
The hobby of studying insects, known as entomology, can be a fascinating and enriching experience that fosters a love of science and may even lead to a career in the field. Here's how:
Introduction to Biology: Insects are a diverse and complex group of organisms. Studying their anatomy, behavior, life cycles, and ecology provides a hands-on introduction to biological concepts and principles.
Development of Observation Skills: Careful observation and documentation of insects require attention to detail and patience. These skills are fundamental to scientific inquiry and can be applied to various scientific disciplines.
Environmental Awareness: Understanding the roles that insects play in ecosystems, such as pollination and decomposition, fosters a deeper appreciation for the environment and the interconnectedness of life.
Research Opportunities: The study of insects offers numerous opportunities for experimentation and research. Young enthusiasts can design and conduct their experiments, analyze data, and draw conclusions, mirroring the scientific process used by professionals.
Creativity and Problem-Solving: Identifying and classifying insects, designing experiments, and finding solutions to challenges require creative thinking and problem-solving skills, essential attributes for a successful career in science.
Community and Collaboration: Engaging with other insect enthusiasts, joining clubs, and participating in citizen science projects provide opportunities for collaboration and networking, reflecting the collaborative nature of scientific work.
Pathway to Careers: A passion for studying insects can lead to academic pursuits in entomology, ecology, conservation, agriculture, and more. Many professional scientists started as hobbyists, and their early experiences with insects shaped their career paths.
The hobby of studying insects is more than just a pastime; it's an educational journey that nurtures essential scientific skills, fosters curiosity, and can ignite a lifelong passion for science. Whether for personal enrichment or as a stepping stone to a career in science, entomology offers a world of discovery and exploration that can be both rewarding and inspiring.