InteracTV
Interactive preschool learning platform with wireless control through which children answer questions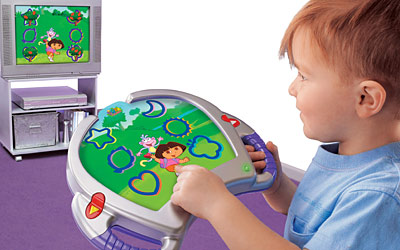 In 2004, Fisher-Price introduced a ground-breaking platform for learning called InteracTV, a unique learning system that enables children to interact and learn with their favorite characters from popular preschool shows on their own TVs using home DVD players.
"InteracTV is one of the most highly-anticipated introductions to the learning category this year," says Jim Silver, editor-in-chief of Toy Wishes. "It presents an entirely different way to look at children's television. InteracTV takes the comprehensive learning curriculum of today's most popular preschool programming to a new dimension, transforming TV watching into an interactive and fun learning experience."
Using the child-friendly InteracTV controller and DVDs featuring individual, existing episodes from television, children are invited to play and learn. They simply place the InteracTV DVD into their home DVD player, and one of the three activity cards included into the controller, to begin play. Footage from the show begins to play and then, just like on the TV shows, the characters invite the children to interact. The wireless controller enables children to answer questions and interact with the characters simply by pressing icons displayed on the card graphics.
From numbers, colors and counting to critical thinking, problem solving, object identification and more, each InteracTV DVD features more than 100 learning activities and questions to keep children engaged. The questions are also randomly programmed so every time children play, they will have a different and unique experience.
The main system includes an InteracTV controller, a bonus DVD and three activity cards featuring footage and game play from favorite shows and retails for approximately $39.99. The system and individual software titles also include a case to store the DVD and activity cards. Individual software titles, featuring more than 100 learning activities and questions each, retail for approximately $15 each. The InteracTV system and the character DVD titles are now available at major toy retailers nationwide.
InteracTV is the newest addition to Fisher-Price's growing portfolio of learning toys, according to Neil Friedman, president of Fisher-Price. "What began last year with the introduction of two innovative and highly successful entries into the competitive learning category, has been developed into a comprehensive line of learning toys for every age and stage of a child's development," he says.
Fisher-Price offers five distinct platforms for learning that reflect the company's in-depth understanding of the way children learn and develop. The full complement of products help to stimulate a child's growth from infancy through grade school beginning with the experientially-based Laugh and Learn collection for infants; PowerTouch Baby, an extension of the groundbreaking PowerTouch Learning System; the expansion of the hugely successful Learn Through Music System; the continuation of Kasey the Kinderbot, and InteracTV.