iQuest Handheld
LeapFrog test assistant and personal organizer includes dictionary, address book, calculator, and calendar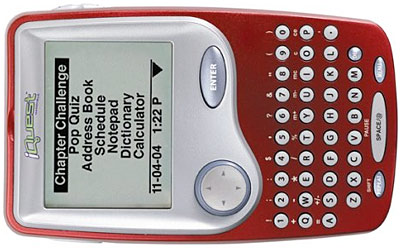 Interactive talking handheld that makes studying for tests fun, fast and effective. Covers over 170,000 questions based on more than 260 textbooks. Helps you study what you need to know for your tests. Plus, it's your personal organizer complete with dictionary, address book, calculator, calendar and more. Curriculum: 5th - 8th Grade Math, Science and Social Studies, standardized test preparation. Customized learning experience that advances the way students study for tests and quizzes--by making the process fun, fast, and effective. iQuest is the hip handheld that prepares students for tests in math, science, and social studies with study questions based on their textbooks. Small enough to fit in the front of a backpack, the iQuest also keeps students organized with a scheduler, address book, dictionary, and calculator. Use the Mind Station connector to download textbook chapter outlines and audio quiz questions onto a cartridge. Then insert that cartridge into the iQuest to learn chapter materials through two game modes: Pop Quiz, the fun beat-the-clock mode, and Chapter Challenge, a thorough review of textbook material.
Educational Mobile Apps
Educational mobile apps have revolutionized the way children learn and engage with content in the digital age. These apps offer a dynamic and interactive platform that combines fun with knowledge, allowing young learners to explore a wide range of subjects through engaging games, quizzes, puzzles, and interactive lessons. With the ability to adapt to individual learning styles and paces, these apps cater to personalized learning experiences, enhancing critical thinking, problem-solving skills, and subject comprehension. From early literacy and numeracy to foreign languages and STEM concepts, educational mobile apps provide accessible and convenient ways for children to acquire knowledge, fostering a love for learning that extends beyond traditional classroom settings.