Jumbo Music Block
Jumbo Music Block helps children learn shapes, colors, and dressing skills.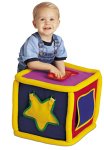 Jumbo Music Block is big on fun and big on learning. Designed to help children learn shapes, colors, and dressing skills, this giant foam block features fun music, surprise pockets, and interactive activities. Each side plays two children's songs-- toe-tapping classics and jazzy new tunes entertain children while reinforcing shape learning and language skills. Each side of this huggable oversized block also features a colorful geometric shape and a secret surprise pocket. Zippers, snaps, and buttons develop fine motor skills and challenge children to uncover whimsical activities including a shiny peek-a-boo mirror, an ABC & 123 book, and a wiggly busy ball. Batteries sold separately.
A Jumbo Music Block offers a multi-sensory extravaganza for little hands and minds, making it an excellent toy for young children. Wrapped in vibrant colors, this oversized foam block is a playground of textures, sounds, and activities. As children explore the different sides of the block, they can engage in activities like zipping, buttoning, and tying, helping to improve their fine motor skills and dressing abilities. Each side features various shapes, assisting children in shape recognition and color differentiation. But what makes this block particularly appealing is its musical element. When kids interact with it, they're rewarded with fun and engaging tunes that make the learning process even more enjoyable. Whether it's a peek-a-boo pocket revealing a hidden surprise or a textured patch encouraging tactile exploration, the Jumbo Music Block is designed to captivate a child's attention while teaching them valuable skills.