Jump 5 Band - CD Five
Jump 5 pop band for kids.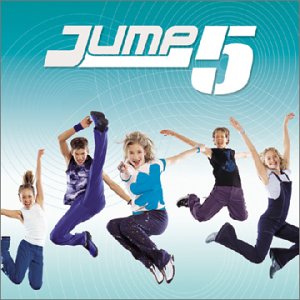 1. Spinnin' Around 2. Virtual Reality 3. Change A Heart, Change The World 4. The Meaning Of Life 5. All I Want 6. Wish That I Could Read Your Mind 7. Tell Me Why 8. I Belong To You 9. Love Ya Too Much 10. When I Say Your Name 11. Start Jumpin' (Bonus Track) 12. God Bless The U.S.A. (Bonus Track)
Jump 5, the dynamic musical pop band catering to children and preteens, created a vibrant and energetic space in the world of kids' music. Active from the late 1990s to the early 2000s, Jump 5 garnered a devoted fanbase with their infectious tunes, catchy melodies, and lively performances. Comprising talented young singers and dancers, the group's music often featured upbeat rhythms and positive messages that resonated with their target audience. Their repertoire of songs encouraged listeners to dance, sing along, and embrace themes of friendship, self-confidence, and youthful optimism. Jump 5's ability to fuse contemporary pop sounds with relatable lyrics made them a staple for youngsters seeking age-appropriate and enjoyable musical experiences.