Jumping Ball With Handle
Jumping ball with a sturdy handle.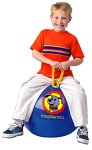 It's a super tough jumping ball with a sturdy handle. Ages 5 and up.
Bouncing on a sturdy jumping ball with a reliable handle is an exhilarating and joyful experience that captivates both children and even the young at heart. This activity combines the thrill of bouncing with the security of a comfortable handle, allowing for a controlled and dynamic playtime adventure. As individuals hop and leap, they engage their muscles, balance, and coordination, promoting physical activity while having a blast. The rhythmic motion brings a sense of freedom and excitement, and the bouncing action creates a feeling of weightlessness that is simply exhilarating. Whether indoors or outdoors, on grass or pavement, this bouncing ball provides endless opportunities for fun, laughter, and a healthy dose of exercise, making it a favorite pastime for all ages.