Knex Roller Coaster
The amazing building set that connects together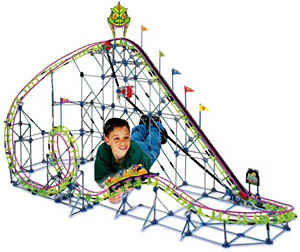 Roller Coaster excitement for the whole family. Build a huge replica of today's steel style roller coaster -- with twists, turns, loops, and cool styling. Over 6 1/2 feet long, 2 1/2 feet wide, and 3 1/2 feet tall -- the battery-powered motor pulls the roller coaster cars up the incline. The sound module creates real coaster sounds and screams. The figures easily press into the seats. Alternate model includes a canopy and is 5 feet long. Perfect for smaller spaces.
Founded in 1992, K'NEX Industries was established to make and sell what has become one of the world's leading construction systems for children.
Founder Joel Glickman came up with the toy set while playing with straws. While sitting at a crowded, noisy wedding, Joel began tinkering with some straws and thinking about the possibilities. This dabbling, followed by some innovative product engineering, led to the very popular Rod and Connector building system now available throughout the world.
Soon builders could add wheels, pulleys and gears to create vehicles and other innovative creations. Easy-to-follow, color-coded instructions, included in every set, made it easy to bring the models to life.
The company has an education program that provides school children with an introduction to the world of engineering and technology. Over 3000 schools throughout the UK and Ireland participated in the competition this summer. The design and build competition is open to all primary schools and organizations teaching 7 to 11 year-olds.
To participate in the challenge, students pair up to design and build a model out of K'NEX Education construction kits that meet a specific design brief. The models are then judged by experienced engineers. There are three stages of challenge: The School Challenge, whose winners progress to the Regional Challenge, whose winners finally go on to the National Challenge. The national final design brief asked the 12 final teams to design an Olympic stadium, with a roof that opened and closed.