Kasparov Laptop Chess Computer
Kasparov Alchemist Electronic Chess Board.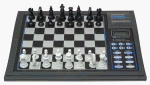 This chess computer has over 768 level setting combinations. It features dual chess clocks and a large four digit LCD display. This game provides Coach modes, Capture Alert, and a Tactical Warning (let you concentrate on strategy). Fames improve logical and strategic thinking, memorization and concentration abilities. No special skills are required, but many skills are developed.