Vidster Digital Video Camera for Kids
Versatile videocamera for children comes with three-step photo and video editing software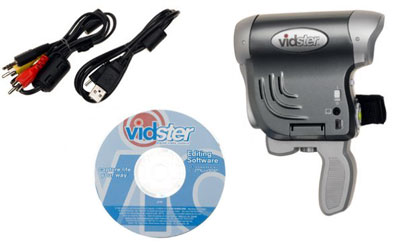 In October 2005, the Vidster Digital Video Camera from Mattel was a virtual movie studio in a box that enabled kids to produce their own music videos and movies. Combining a versatile videocamera with three-step photo and video editing software, the Vidster Digital Video Camera gave children everything they need to shoot, edit, and distribute short films.
"Vidster was designed for today's tweens and teens who want to capture events in their lives and tell stories visually," said Phil Jackson of Mattel. "We've developed a hardware-plus-software combination that, in essence, is a movie studio in a box for kids. It includes the functions most applicable for this age group: taking digital photos with zoom capabilities, shooting video footage that can be easily assembled into short movies using the super-intuitive software, and plug-and-play connectivity that enables viewing footage on their TVs or computers. And frankly, with Vidster, parents can feel comfortable that their own high-end cameras are not bouncing around in their kids' backpacks."
Vidster was ergonomically designed specifically for kids, with ease of use being paramount in its creation. With 32 MB of on-board memory, kids can use the camera right out of the box and capture up to ten minutes of footage and dozens of digital photos.
At eleven ounces, Vidster can be used with one hand - all of its functions can be controlled with just five, thumb-able buttons and a selection switch. Its recessed lens, viewfinder, and durable casing enable kids to keep it in their backpacks with other day-to-day items, so they can pull it out quickly and not miss any action from their everyday lives.
Vidster and its bundled photo and video software were built from the ground up and designed to work seamlessly with one another. Its video editing software, a Vidster version of muvee Technologies' autoProducer, enables kids to add digital music files, and edit and customize their footage and still photos into complete short films or music videos in three simple steps. Films can be easily e-mailed to family and friends, uploaded onto Web sites or burned onto DVDs.
Vidster features a 2.0 digital zoom lens, built-in microphone, color LCD viewfinder, tripod mount and removable hand grip attachment. An expansion slot accepts up to a 512 MB SD card for hours of footage and photos that can be captured and stored. The camera connects directly to a TV via standard A/V cables for easy video and photo playback or to a PC via USB cable.
Vidster Digital Video Camera sold for $79.99.
How a video camera can be an inspiring and educational gift for a creatively inclined child
Encourages Creativity: A video camera allows children to explore their creativity by making their own videos, short films, or documentaries.
Develops Storytelling Skills: Children can learn to craft narratives and tell stories through visual media, enhancing their communication and storytelling abilities.
Teaches Technical Skills: Operating a video camera introduces children to basic technical skills, such as focusing, zooming, and editing, which can be valuable in today's digital age.
Promotes Collaboration: Making videos often involves teamwork, encouraging children to collaborate with friends or family members on projects.
Builds Confidence: Seeing their ideas come to life on screen can boost a child's confidence and sense of accomplishment.
Enhances Observation Skills: Using a video camera helps children pay attention to details and observe the world around them more closely, fostering curiosity and critical thinking.
Provides a Creative Outlet: For children with a vivid imagination, a video camera offers a medium to express their thoughts, ideas, and emotions in a creative way.
Encourages Outdoor Exploration: Filming outside can motivate children to explore nature and their surroundings, promoting physical activity and environmental awareness.
Introduces Film Appreciation: Working with a video camera can lead to a deeper appreciation for movies, documentaries, and other visual arts, cultivating a well-rounded cultural understanding.
Creates Lasting Memories: Videos captured by children can become cherished memories, reflecting their growth, interests, and milestones over time.
Supports Future Interests: For children showing an interest in filmmaking, journalism, or content creation, a video camera can be an early step towards a potential hobby or career path.