Kids Party Music
Great dancing music for kids party.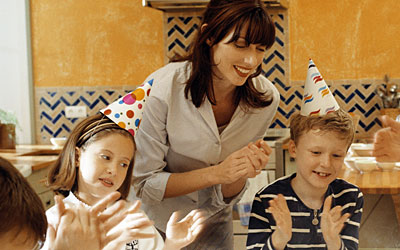 1. Born To Hand Jive 2. Disney Mambo No.5 (A Little Bit Of...) 3. Coconut, (Put The Lime In The) 4. I Want To Hold Your Hand 5. Purple People Eater 6. It's A Sunshine Day 7. Brand New Key, (I've Got A Brand New Pair Of Roller Skates) 8. C'mon N' Ride It (The Train) 9. Shout 10. We Like to Party 11. Shimmy Shimmy Ko-Ko Bop 12. Double Dutch Bus 13. Love Rollercoaster 14. Banana Boat Song (Day-O) 15. Saturday Night 16. Playground My Mind (My Name Is Michael)
Party music for kids serves multiple purposes, enhancing the atmosphere, entertaining young guests, and facilitating social interaction. Upbeat, age-appropriate tunes can transform a mundane gathering into an energetic, memorable event, providing a sonic backdrop that encourages children to dance, sing, and play games. Music also serves as a social catalyst, helping even shy children come out of their shells to engage with their peers. By choosing songs that are familiar and enjoyed by the target age group, the party organizer can create an inclusive environment where every child feels welcome and engaged. Moreover, kids' party music often includes educational elements like counting, spelling, or moral lessons, delivering content in a fun and memorable way.