Kidz Bop - Kids Bop
As advertised on TV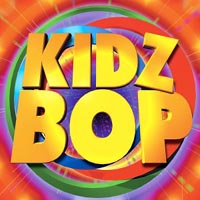 It's what every kid wants. It's what every kid needs. Kidz Bop, thirty newly recorded, kid friendly versions of today's biggest songs. You can't get this collection in any store. Your kids can dance to this music all day. These are the songs that kids love. They're great for parties, driving in the car, or just about anything. You'll dance, you'll sing, you'll go crazy. This is one CD that the kids and you can listen to together. Kidz Bop rocks! With Kidz Bop you'll never stop!
DISC 1:
All Star
Oops...I Did It Again
Steal My Sunshine
Bye Bye Bye
My Love Is Your Love
Slide
Livin' La Vida Loca
Kiss Me
Fly
Bring It All To Me
Believe
One Week
Crush
She's So High
I Wanna Love You Forever
DISC 2:
I Want It That Way
What A Girl Wants
Bailamos
All The Small Things
That's The Way It Is
Blue (Da Ba Dee)
Real World
Waiting For Tonight
Angel Of Mine
Mmmbop
Never Let You Go
That Don't Impress Me Much
Summer Girls
Fly Away
Amazed

The Kidz Bop franchise has revolutionized children's music by creating family-friendly versions of popular hit songs, capturing the hearts of young listeners and parents alike. Since its inception in 2001, Kidz Bop has established itself as a go-to source for age-appropriate tunes, transforming contemporary hits into catchy, clean, and kid-approved tracks that maintain the essence of the original songs.