Kim Possible Toys, Games, Products, Merchandise
Hit Store Shelves in July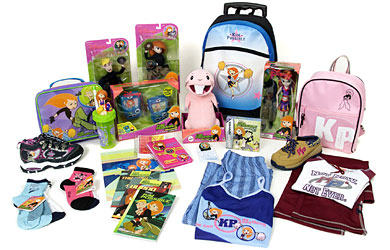 Disney's Kim Possible went from television to store shelves in July 2003 with a retail launch at Wal-Mart fit for a superhero. From back-to-school through December 2003, the new, innovative Kim Possible merchandise was exclusive to Wal-Mart stores in North America.
"Disney's Kim Possible" follows the comedic action-adventures of a typical high school girl who, in her spare time, happens to save the world from evil villains. Along with her best friend Ron Stoppable; his pet, a Naked Mole-rat named Rufus; and their webmaster buddy Wade, who feeds them vital information via a special Kimmunicator device, this girl-next-door-turned-superhero foils archenemies around the globe. Then, it's back to her family and homework.
In May 2003, Kim Possible was the No. 1 basic cable program on Friday from 6:30 p.m. to 7 p.m. with kids ages 6 to 11 (tied with Nickelodeon) and tweens ages 9 to 14. The show airs 12 times per week on Disney Channel and Saturday Mornings on ABC Kids.
From back-to-school through December 2003, the new, innovative Kim Possible merchandise will be exclusive to Wal-Mart stores in North America. Kim Possible merchandise includes:
Disney Hardlines -- stationery, lunchboxes, food products, room decor.
Disney Softlines -- sportswear, sleepwear, daywear, accessories.
Disney Toys -- action figures, wigglers, beanbags, plush, fashion dolls, poseables.
Disney Publishing -- diaries, junior novels, comic books.
Walt Disney Records -- Kim Possible soundtrack.
Buena Vista Home Entertainment -- DVD/video featuring never-before-seen Kim Possible episode and special CGI interstitial.
Buena Vista Games -- GameBoy Advance
"The success of Kim Possible is driven by action-packed storylines which translate well into merchandise in many categories," said Andy Mooney, chairman, Disney Consumer Products Worldwide. "Our ongoing efforts to create merchandise inspired by Disney Channel programming continues to be a successful venture, and we are extremely pleased to have such broad launch support at Wal-Mart stores in North America."
Said Rich Ross, president of entertainment, Disney Channel: "Today's kids want a deeper experience with their favorite television characters, like Kim Possible. This line of products extends our viewers' experience with Kim, Rufus, Ron and other show characters, allowing them to touch, see and live the Kim Possible experience."
In addition to great products, Disney and Wal-Mart will maximize sales through advertising, promotions and in-store excitement. Highlights include:
Online Marketing -- From August 1 through September 30, Kim Possible merchandise will be featured in the "What's In-Store" section of walmart.com .
Wal-Mart Television Network -- Kim Possible toys, hardlines and softlines will be featured daily from July 28 through August 24.
Coca-Cola Promotion -- From July 20 through August 16, select packs of Coke Classic will feature Kim Possible Kimmunicator cards (five total) inside packaging.
Act II Popcorn Promotion -- From July through September, this Wal-Mart specific promotion will promote the upcoming Kim Possible home video & DVD release.
Wal-Mart Tab -- Kim Possible product featured in August and September.
Disney Channel/Wal-Mart On-Air Promotion -- From August 6 through September 6, Disney Channel on-air promotions will encourage fans of the series to go to the Wal-Mart Retailtainment event on September 6.
Video & DVD Release -- On September 2, a Kim Possible video compilation featuring a new episode and CGI interstitial will debut supported by a strong media campaign.
Retailtainment At Wal-Mart -- On September 6, in-store excitement will be created with fun, engaging and interactive activities culminating in the premiere of a never-before-seen Kim Possible episode aired on Wal-Mart TV.
McDonald's Happy Meal -- Generate nationwide exposure and awareness for Kim Possible from September 5 through October 2 through a media campaign and 50 million premiums.
The Kim Possible line was unveiled during a pep rally inspired by the show at L!censing 2003 International at the Jacob K. Javits Convention Center in New York City.