Leapster
Multimedia learning system combines interactive video player, handheld gaming, creativity platform, and digitized book reader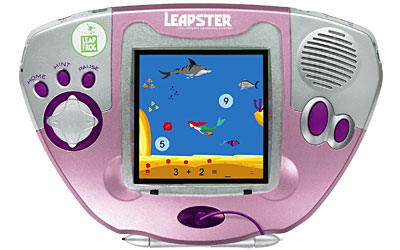 In 2005, because tween and teen girls emerged in the marketplace as key contenders in the gaming space, LeapFrog gave its Leapster handheld product a face-lift.
To complement the new look, the Leapster system now has software titles targeting the girl gamer including Junie B. Jones and Disney Princesses. The company offers a large educational software suite for handhelds.
The Leapster system is actually four systems in one (interactive video player, handheld gaming system, creativity platform and digitized book reader).
With the new Leapster cartridges, users can solve a mystery with The Incredibles; become a spelling whiz with Spider-Man; keep a journal with Junie B. Jones; or swim along with Dory and Marlin as they set out to rescue Nemo.
The Leapster Multimedia Learning System platform is available for eighty dollars, with the software cartridges costing between twenty and twenty-five bucks.
Features of the LeapFrog Leapster learning system
Interactive Touch Screen: The Leapster featured a touch screen that allowed children to interact with games and activities using a stylus or finger.
Educational Games: A wide variety of educational games were available, focusing on subjects like math, reading, science, and problem-solving skills.
Age-Appropriate Content: Games were designed for specific age groups, ensuring that the content was suitable and engaging for each child's developmental stage.
Customizable Learning Experience: Some games adapted to the child's skill level, offering personalized challenges and progress tracking.
Colorful Graphics: The Leapster's display offered vibrant and colorful graphics, making the learning experience visually appealing.
Portable Design: Its handheld design made the Leapster convenient for travel and play on the go.
Expandable Library: With cartridge-based games and downloadable content, the Leapster's game library could be expanded, offering continued educational growth.
Art and Creativity Tools: Some games included drawing and creativity tools, encouraging artistic expression.
Parental Controls and Reporting: Parents could monitor their child's progress and control content through parental settings.
Multiplayer Capability: Certain games allowed for multiplayer interaction, promoting social play and collaboration.
Durable Construction: Designed with young users in mind, the Leapster was built to be durable and child-friendly.
Audio Instructions: Many games included voice instructions and feedback, assisting children who were still learning to read.
Connection to LeapFrog Learning Path: Some versions allowed for connection to LeapFrog's online Learning Path for additional insights and customization.