Legally Blonde Barbie Elle Woods
Barbie Doll Representing Reese Witherspoon as Elle Woods in MGM Pictures Legally Blonde 2: Red, White and Blonde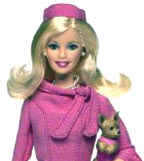 Elle Woods' is back in her signature strappy shoes in Legally Blonde 2: Red, White and Blonde. And donning her own set of sassy sandals, Barbie makes the ultimate tribute to this icon of feminine style as "Barbie as Elle." Dressed in Elle's trademark pink suit, complete with a special matching ensemble for her beloved dog Bruiser, Barbie as Elle features all the signature details that made Elle's look so popular in the original blockbuster hit, Legally Blonde.Legally Blonde 2: Red, White and Blonde finds Elle, a rising young lawyer, about to make partner at her law firm, she and Emmett are still in love, and her hair is still super healthy. But when she finds out her beloved Bruiser's canine relatives are being used as cosmetic test subjects, Elle heads to D.C to accessorize her rights and take matters into her own well-manicured hands. Political maneuvering, vote-seeking senators, hidden agendas and a cute Congress outfit with matching Gucci bag? Elle Woods goes to Washington and the U.S. Government will never be the same. This sequel to the box office smash Legally Blonde will hit theaters this summer on July 2, 2003, and will again star Reese Witherspoon along with an all-star cast including Bob Newhart, Sally Field, Regina King, and Luke Wilson. Barbie as Elle, is certain to gain the votes of both Barbie and Elle fans worldwide.
Fashionistas and politicos alike, look out. Elle Woods is back, and this time she is ready to work her "pink" magic in Washington, DC, in MGM Pictures' sure-to-be summer blockbuster Legally Blonde 2: Red, White and Blonde. Always the first to support her fellow smart, sassy and fashion-forward sisters, Barbie doll is proud to pay homage to this blonde go-getter with the collectible "Barbie doll as Elle Woods."
Following on the "heels" of MGM's original box office hit Legally Blonde, the sequel finds Elle as a rising young lawyer ready to battle animal testing on Capitol Hill. She is still with her boyfriend, Emmett...is never separated from her beloved dog, Bruiser...and still has that identifiable flair for fashion. Recognizing Elle's dedication to causes she believes in and her refusal to compromise her signature pink style - no matter the occasion -- Barbie doll pays tribute to the "other" blonde style maven who has a desire to make a difference.
"When she first saw Legally Blonde, Barbie was thrilled with the positive message it sent to young girls about believing in their dreams and achieving goals they set for themselves," said Ria Freydl, Barbie doll's publicist. "She is proud to be associated with the sequel Legally Blonde 2: Red, White and Blonde, and hopes her homage to a strong female character like Elle Woods will further the movie's message that you can have both substance - and style."
"Legally Blonde was a tremendous success, and MGM looks forward to building upon that success with the release of Legally Blonde 2," said Travis Rutherford, Senior Vice President, MGM Worldwide Consumer Products and Interactive. "Our partnership with Barbie further extends the style and fun of the Legally Blonde franchise to consumer products."
Barbie captures Elle's style from a pivotal scene in the movie when Elle takes her cause to Congress. Mimicking the original design by the film's costume designer, Sophie de Rakoff Carbonell, Barbie wears a crepe pink suit with a matching pillbox-style hat and strappy pink heels. She accessorizes with tiny pearl-esque earrings and a matching double strand pearl-esque necklace that are reminiscent of the Mikimoto necklace and earrings seen in the film. She "carries" with her a pink and white polka-dotted tote bag along with her beloved Chihuahua, who "wears" a matching pink suit. The finishing touch to her politico power suit is her "staff" badge, which she clips to the front of her suit jacket.
"The Barbie project gave me a chance to celebrate Elle's spirit by making a donation, along with MGM, to the Children's Defense Fund, an organization dedicated to promoting and protecting childrens' health, education and welfare," said Reese Witherspoon, star of Legally Blonde 2. "In the same way that Elle goes to Washington to speak for Bruiser and his mom, the CDF works to provide a strong effective voice for all the children of America, who cannot vote, speak or lobby for themselves."
Elle's future as a star on the DC scene will be summed up when Legally Blonde 2: Red, White and Blonde is released July 2, 2003. Without having to choose which "party" to go to in DC, girls everywhere can play out the fun over and over again with the collectible Barbie doll as Elle Woods.