Lego Alpha Team
Mobile command center includes 420 pieces to form four agents, ice orbs, snow scooters, and ray unit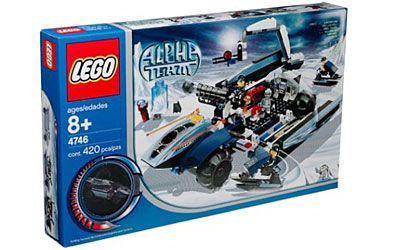 Arrow and Charge begin to approach the source of the signal they've been tracking. Suddenly, they see that one of Ogel's ice drones is planting an ice orb in the snow. Without being seen, Charge contacts the Mobile Command Center and updates Radia on the situation. Deftly pressing a combination of switches, Radia transforms the command center into Mobile mode and sets the vehicle into motion. When they arrive, Radia lowers the sides of the vehicle and moves the unit into position. Alpha Team's Mobile Command Center is on the move, tracking down Ogel's secret base. Arrow and Charge man the snow scooters and send back reports to the Command Center. Radia deploys the ray unit to melt Ogel's ice orbs. Nothing stops Alpha Team's most powerful machine. Includes four Alpha Team agents, Ogel agent, ice orbs, and snow scooters. 420 Lego pieces.
The concept of command centers and secret bases has long captured the imagination of children, sparking creativity and adventure in their playtime. Building toys like LEGO provide the perfect medium for children to explore these exciting themes. Here's how:
Imaginative Storytelling: Command centers and secret bases often serve as central hubs for heroes, spies, and explorers in stories and movies. By building their own versions of these structures, children can create imaginative narratives and role-play scenarios, becoming the heroes of their own adventures.
Problem-Solving and Strategy: Designing and constructing a command center or secret base requires careful planning and strategic thinking. Children must decide on the layout, features, and defenses, honing their problem-solving and critical thinking skills in the process.
Integration with Other Themes: Command centers and secret bases can be integrated into various play themes, from superhero adventures to space exploration. This versatility allows children to combine different LEGO sets and elements, creating a cohesive and expansive play environment.
Collaboration and Teamwork: Building a complex structure like a command center encourages collaboration and teamwork. Children can work together, assigning roles and responsibilities, and learning valuable social skills as they cooperate to achieve a shared goal.
Exploration of Technology: Many command centers and secret bases are depicted with advanced technology and gadgets. Children can explore concepts related to technology, engineering, and innovation as they equip their bases with control panels, communication devices, and security systems.
Emphasis on Creativity: There are no fixed rules for what a command center or secret base should look like. This freedom encourages children to be creative and innovative, experimenting with different designs and features to create something uniquely their own.
Empowerment and Control: Building a command center gives children a sense of empowerment and control, as they are in charge of their own operations center. This sense of ownership and responsibility adds depth and engagement to their play experience.
Endless Replay Value: The modular nature of building toys like LEGO allows children to continually modify and expand their command centers and secret bases. This adaptability provides endless replay value, as children can create new challenges and adventures each time they play.
The idea of command centers and secret bases resonates with children's innate curiosity, creativity, and desire for adventure. Building toys like LEGO enable children to bring these concepts to life, offering a rich and multifaceted play experience that nurtures cognitive, social, and emotional development. Whether leading a team of superheroes or exploring the far reaches of space, children can immerse themselves in a world of imagination and discovery, all while developing valuable life skills.