Lego News
Tight-fitting plastic building blocks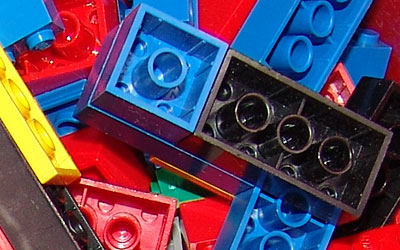 Hogwarts Castle Lego - Harry Potter building playset.
Lego Universe - Online video game that combined building and battle.
Lego Power Miners - Building block and character set based on underground mining.
Lego Atlantis - Interconnected undersea building set.
Lego Agents - New 2.0 action adventure building set from Lego.
Lego Racers - Toy racing cars with pull-back action.
| | |
| --- | --- |
| | Lego Dino Attack defeat the Legos building set dinosaur. |
| | Lego Vikings building adventure set. |
| | Lego Alpha Team mobile command center includes 420 pieces to form four agents, ice orbs, snow scooters, and ray unit. |
| | Lego Knight's Kingdom classic battle playset mounts siege engine against imaginary kingdom's castle walls with mini figure of king. |
Attack of the Clones Legos - Build your own Star Wars adventure.
Lego Bionicle
Bob the Builder Legos - Help Bob and Scoop surprise Muck and give him a good wash down.
Bulk Bucket of Legos - 70 interlocking pieces. Extra Duplo bricks for building bigger creations.
Lego Bulk Tub - Nice variety of lego pieces.
Lego Flat Gray Base - Each durable baseplate forms a solid base for all your Lego building bricks.
Lego Jack Stone - Jack Stone, Lego hero, fights crime using a vast array of vehicles and gadgets.
Lego Life on Mars - The perplexing question of whether human beings could survive Mars's icy atmosphere is answered with an affirmative in Lego's Solar Explorer set, part of the Life on Mars series.
Lego Mindstorms Robotics Invention System - Build and program your own Lego Robots.
Lego Toys
Lego Cars Roadside Repair - Great for kids who like both cars and legos.
Lego Star Wars - Ten years after the fight to save Naboo from invasion, the galaxy is on the brink of civil war.
Spiderman Legos - The Spiderman movie comes alive with the Spiderman Legos Action Studio.
Lego Duplo Western Set - Classic Duplo blocks.