Lego Bionicle
Characters in a fictional world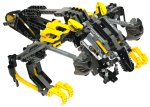 With sharp claws and powerful jaws, Muaka is a fierce tiger-like beast and Kane-Ra's sharp horns make him just as deadly! When under the control of Makuta, they are among his most powerful servants. But if the Toa best them in battle, the beasts can be tamed. Squeeze Muaka's mid-section and his head extends out with snapping fangs to knock off Kane-ra's mask. According to the Legends of the Bionicle, Muaka is a large tiger-like creature with snapping jaws and clawed hands, and Kane-Ra resembles a great bull with a nasty bite and horns. After following the detailed illustrated instructions, both Muaka and Kane-Ra are capable of extending their necks a great distance, making it easier for them to corner and catch prey. Muaka relies on his snapping jaws, Kane-Ra on his sharp horns. Like all of the Makuta's minions, these monsters can be defeated when their masks are knocked off--but beware, they are the masters of surprise.
LEGO Bionicle is a line of toys and a storyline that has become a significant part of LEGO's legacy. The Bionicle universe is rich and complex, filled with unique characters, mystical elements, and engaging narratives. Here are some of the key features and qualities of LEGO Bionicle lore:
Unique Characters: The Bionicle universe is populated with a wide array of characters, each with distinct personalities, abilities, and roles. From heroic Toa to villainous Makuta, the characters are central to the lore.
Elemental Powers: Characters are often associated with specific elements such as fire, water, air, earth, ice, and stone. These elemental affiliations influence their powers, weapons, and characteristics.
Rich Mythology: Bionicle's lore draws inspiration from various mythologies, creating a unique blend of legends, prophecies, and mystical traditions. This rich background adds depth and complexity to the storyline.
Engaging Storyline: The Bionicle story unfolds through various media, including comics, books, movies, and online content. It features epic quests, battles, betrayals, and triumphs that keep fans engaged and invested.
Interactive Playsets: LEGO Bionicle sets are designed to allow fans to build and recreate scenes and characters from the lore. The sets often include innovative features, such as poseable limbs and functional gears.
Collectible Masks: Masks, known as Kanohi, play a vital role in Bionicle lore. They grant characters specific abilities and are central to the plot. Collecting these masks became a popular aspect of the toy line.
Themed Series: Bionicle's story is divided into different series or generations, each exploring new themes, characters, and locations. This structure allows for continuous evolution and fresh storytelling.
Fan Community: Bionicle has fostered a passionate fan community that actively engages with the lore, creates fan art, writes fan fiction, and participates in forums and events. This community has contributed to the enduring success of Bionicle.
Educational Value: Through its intricate plots and character development, Bionicle encourages creativity, problem-solving, and critical thinking. It also promotes values such as teamwork, perseverance, and moral integrity.
Cross-Media Presence: Bionicle's lore has been expanded and enriched through various media, including video games, animated films, and even a theme park attraction, making it accessible to a broader audience.
LEGO Bionicle's lore is a multifaceted and immersive universe that has captivated fans for years. Its combination of engaging storytelling, unique characters, interactive playsets, and community engagement has made it a standout series in LEGO's portfolio.