Lego Cars Roadside Repair
Great for kids who like cars and legos.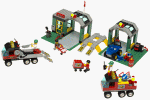 A repair center that is a great addition to any Legos set up. Includes towing vehicles and garages, it is a real work center that will make kids feel that they are participating in the world of fixing cars.