Lego Cars Roadside Repair
Great for kids who like cars and legos.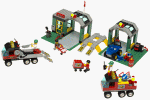 A repair center that is a great addition to any Legos set up. Includes towing vehicles and garages, it is a real work center that will make kids feel that they are participating in the world of fixing cars.
Children's playsets that include repairing vehicles offer a unique and engaging play experience that goes beyond mere entertainment. These playsets tap into a child's natural curiosity and desire to understand how things work, fostering a sense of accomplishment and usefulness. Here's how:
Hands-On Learning: By working with tools and vehicle parts, children engage in hands-on learning. They explore mechanics, engineering, and problem-solving, developing practical skills that can be applied in real life.
Role-Playing: These playsets often encourage role-playing, where children can take on the roles of mechanics, engineers, or helpers. This role-playing experience allows them to imagine themselves in responsible and skilled positions, enhancing their self-esteem and sense of purpose.
Understanding Cause and Effect: Repairing vehicles in playsets teaches children about cause and effect. They learn that specific actions lead to particular outcomes, such as fixing a broken wheel to make a car move again. This understanding fosters logical thinking and a sense of control over their environment.
Collaboration and Teamwork: Many vehicle repair playsets are designed for cooperative play. Children learn to work together, share tools, and collaborate on solutions, promoting social skills and the value of teamwork.
Creativity and Innovation: The open-ended nature of vehicle repair playsets encourages creativity and innovation. Children can experiment with different solutions, invent new ways to fix problems, and express their creativity through customization and design.
Emulating Adult Roles: By mimicking the actions of adults who repair vehicles, children feel a connection to the adult world. They see the importance and value of fixing things, nurturing a sense of responsibility and usefulness.
Building Confidence: Successfully repairing a vehicle in a playset builds confidence. Children feel a sense of achievement and pride in their abilities, reinforcing the belief that they are capable and useful.
Children's playsets that include repairing vehicles provide multifaceted learning and developmental opportunities. They inspire children to feel useful by engaging them in meaningful tasks, fostering practical skills, encouraging creativity, promoting teamwork, and building confidence. These play experiences contribute to a child's overall growth and development, shaping them into responsible, capable, and confident individuals.