Lego Flat Gray Base
Each durable baseplate forms a solid base for all your Lego building bricks.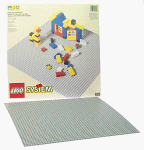 This light gray 15-by-15-inch Lego base plate makes a great foundation for all kinds of fascinating Lego creations. Lego pieces snap easily onto the textured surface of this flexible plastic board, which is large and sturdy enough to support even your more elaborate scenes: space stations, launch sites, castles, forts, and cities--whatever you can imagine. The base plate holds your Lego creations together and makes them easy to move around and display. (Lego pieces are sold separately.) Mammoth creations like skyscrapers or enchanted castles do much better with a baseplate foundation. Each durable baseplate forms a solid base for all your Lego building bricks.
Brief History of LEGO
1932: LEGO was founded by Ole Kirk Christiansen, a Danish carpenter, in Billund, Denmark. Initially, the company produced wooden toys and household items.
1949: LEGO began producing plastic toys, including a predecessor to the LEGO brick called Automatic Binding Bricks.
1958: The modern LEGO brick design was patented, featuring the unique interlocking tube system that provides a more stable connection between bricks.
1968: The first LEGOLAND theme park opened in Billund, Denmark, attracting visitors from around the world.
1978: Introduction of LEGO Minifigures, adding characters and storytelling elements to LEGO sets.
1980s: Expansion into educational products and video games, broadening LEGO's reach into schools and digital platforms.
1990s: Introduction of themed sets like LEGO Star Wars, LEGO Harry Potter, and LEGO Technic, collaborating with popular franchises.
2000s: Continued growth with the launch of LEGO Friends, LEGO Ninjago, and the LEGO Architecture series, appealing to diverse audiences.
2014: Release of "The LEGO Movie," a major box office success that further cemented LEGO's cultural impact.
Present: LEGO continues to innovate with new themes, digital experiences, and educational initiatives, maintaining its position as one of the world's leading toy manufacturers.