Lego Jack Stone
Lego Jack Stone Police Station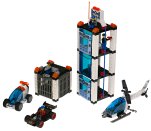 Jack Stone is a tough and brainy crime fighter who just happens to be a small plastic Lego unit. This 137-piece set features everything needed to create a police tower, prison cell, helicopter, bad-guy car, and police cruiser. Besides the Jack figure, there are three other cops and a bad guy. The included siren brick, featuring a non-replaceable 3-volt battery, can be installed in the police car for hot pursuits, atop the tower to signal the helicopter, or anywhere else you choose. When activated, it flashes lights and makes a loud sound. Of course, since these are Legos, they can be used to assemble the vehicles depicted or entirely new creations.
Jack Stone is a legendary crime-fighting character that has captured the hearts and imaginations of children around the world. Known for his courage, intelligence, and unbreakable determination, Jack Stone embodies the qualities of a true hero. Here's how this iconic character appeals to children's adventure playtime:
Role Model: Jack Stone represents the epitome of bravery and justice. His unwavering commitment to fighting crime and helping those in need makes him a positive role model for children, inspiring them to emulate his virtues in their own lives.
Exciting Adventures: The character is often portrayed in thrilling adventures, battling villains, solving mysteries, and undertaking daring rescues. These exciting narratives stimulate children's creativity and encourage them to create their own adventures during playtime.
Interactive Playsets: Toy manufacturers have created various Jack Stone-themed playsets, complete with vehicles, gadgets, and accessories. These toys enable children to reenact Jack Stone's adventures or invent new scenarios, enhancing their imaginative play.
Engaging Storytelling: Jack Stone's stories are filled with intriguing plots, memorable characters, and moral lessons. Whether through animated series, comic books, or toy packaging narratives, these stories engage children's curiosity and foster a love for storytelling.
Empowerment and Problem-Solving: Jack Stone is known for his clever problem-solving skills and resourcefulness. By identifying with this character, children are encouraged to think critically, solve problems, and believe in their ability to overcome challenges.
Teamwork and Friendship: Often working with a team of loyal friends and allies, Jack Stone teaches the importance of collaboration, trust, and loyalty. These values resonate with children and promote positive social interactions during playtime.
Universal Appeal: Jack Stone's adventures transcend cultural and geographical boundaries, making him a beloved character for children of various backgrounds and ages. His universal appeal ensures that he continues to be a favorite in adventure playtime.
Jack Stone's legendary status as a crime fighter, combined with his heroic qualities, thrilling adventures, and engaging storytelling, makes him a compelling character for children's playtime. He not only entertains but also educates and inspires, fostering creativity, moral development, and a sense of empowerment in young minds.