Lego Knight's Kingdom
Classic battle playset mounts siege engine against imaginary kingdom's castle walls with mini figure of king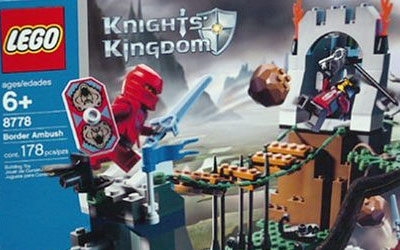 Only craft and cleverness can help Santis, the Strong, fend off dangers found along the journey to the Citadel of Orlan. Can Vladek, the Dark Knight overtake Santis or will good prevail? The Grand Tournament is the Kingdom's ultimate tournament to decide who will be King. Set includes the mini figures of the King of Morcia, Vladek, the Dark Knight, and Jayko, the Rookie. Vladek is coming to seize the castle, and only you can stop him. Man the castle walls as Vladek's siege engine prepares to attack. Special Lego set includes Knight's Castle Wall and Vladek's Siege Engine, and features Rascus, Santis, Jayko, Vladek and Shadow Knight mini-figures. Vladek's Attack model combines to create a classic struggle.
Toy companies like LEGO have long recognized the timeless appeal of medieval lore, particularly the fascinating world of castles, knights, dragons, and magical quests. By creating playsets that draw inspiration from these themes, they have managed to captivate the imaginations of children and adults alike. Here's how they have achieved this:
Creation of Iconic Castles: LEGO has designed various castle playsets that replicate the grandeur and mystique of medieval fortresses. These sets often include drawbridges, towers, dungeons, and other architectural features that define the era.
Knights and Warriors: The playsets include detailed minifigures of knights, archers, and soldiers, often adorned with historically inspired armor, shields, and weaponry. These characters allow children to enact battles, jousting tournaments, and heroic quests.
Magical Elements: Many sets incorporate elements of fantasy and magic, such as wizards, witches, dragons, and mythical creatures. These additions bring an extra layer of excitement and creativity to the play experience.
Storytelling and Adventure: LEGO often provides background stories and scenarios that set the stage for adventure. These narratives encourage children to create their own tales of bravery, chivalry, and exploration within the medieval setting.
Educational Value: By recreating historical settings and characters, these playsets offer an engaging way to introduce children to medieval history and culture. They can learn about feudal society, warfare, architecture, and more through play.
Themed Collections: LEGO has released various themed collections, such as "LEGO Castle" and "LEGO Kingdoms," that explore different aspects of medieval life. These collections allow children to build entire medieval worlds, complete with different factions, landscapes, and adventures.
Collaboration with Popular Media: LEGO has also collaborated with popular medieval-themed media franchises, creating sets that tie in with beloved stories and characters, further enhancing the appeal of these themes.
Appeal to All Ages: The combination of historical accuracy and imaginative play ensures that these medieval-themed sets appeal to a wide age range, from young children discovering the world of knights and castles to adult collectors who appreciate the intricate design and nostalgia.
Toy companies like LEGO have skillfully tapped into the rich and enchanting world of medieval lore to create playsets that inspire creativity, storytelling, and learning. By blending history with fantasy, they have created a play experience that continues to resonate with generations of children and fans of all ages.