Lego Mindstorms Robotics Invention System
Build and program your own Lego Robots.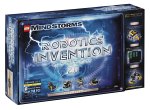 Build and program your own Lego Robots! Contains everything you need to create thousands of robotic inventions. The key to this awesome new invention system is the revolutionary Lego RCX, a programmable microcomputer that acts as the brain of your robotic inventions. Using your PC and the RCX, you can control the behavior of an infinite number of robotic inventions--from a light-sensitive intruder alarm to an undercover robot that can follow a trail, move around obstacles, even duck into dark corners. The set includes an RCX microcomputer; CD-ROM software; 717 Lego pieces, including two motors, two touch sensors, and one light sensor; a Constuctopedia; 12 guided challenges, and an infrared transmitter.
The LEGO robotics system, particularly known through the LEGO Mindstorms series, has revolutionized the way children and hobbyists approach robotics and programming. The system's programmable microcomputer, often referred to as the "Intelligent Brick," serves as the heart of the system. Here are some of the key features:
Programmable Intelligent Brick: This microcomputer allows users to program and control LEGO robots. It can be programmed using various programming languages, including LEGO's graphical programming language, making it accessible to users of different skill levels.
Sensors and Motors: The system includes various sensors (such as touch, light, sound, and distance sensors) and motors that can be connected to the Intelligent Brick. These components enable the robot to interact with its environment and perform complex tasks.
Graphical Programming Interface: LEGO provides a user-friendly graphical programming interface that allows even young children to create programs by dragging and dropping code blocks. This fosters creativity and introduces coding concepts in an engaging way.
Expandable and Customizable: The LEGO robotics system is designed to be modular and expandable. Users can add additional sensors, motors, and LEGO pieces to create custom robots that suit their interests and challenges.
Wireless Connectivity: Many versions of the Intelligent Brick offer Bluetooth or Wi-Fi connectivity, allowing for remote control and programming via computers, tablets, or smartphones.
Community Support: The LEGO robotics community is active and supportive, offering online forums, tutorials, and resources to help users learn, share, and grow in their robotics endeavors.
Educational Focus: The system is widely used in educational settings to teach STEM (Science, Technology, Engineering, Mathematics) concepts. It encourages problem-solving, logical thinking, and collaboration through hands-on projects.
Compatibility with LEGO Building System: The LEGO robotics system is compatible with standard LEGO bricks and Technic pieces, allowing for endless creativity and integration with existing LEGO collections.
The LEGO robotics system with its programmable microcomputer offers a versatile and engaging platform for learning robotics and programming. Its user-friendly design, expandability, and strong community support make it a popular choice for hobbyists, educators, and learners of all ages.