Lego Mindstorms Robotics Invention System
Build and program your own Lego Robots.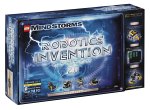 Build and program your own Lego Robots! Contains everything you need to create thousands of robotic inventions. The key to this awesome new invention system is the revolutionary Lego RCX, a programmable microcomputer that acts as the brain of your robotic inventions. Using your PC and the RCX, you can control the behavior of an infinite number of robotic inventions--from a light-sensitive intruder alarm to an undercover robot that can follow a trail, move around obstacles, even duck into dark corners. The set includes an RCX microcomputer; CD-ROM software; 717 Lego pieces, including two motors, two touch sensors, and one light sensor; a Constuctopedia; 12 guided challenges, and an infrared transmitter.