Lego Toys
Incredible variety of LEGO playsets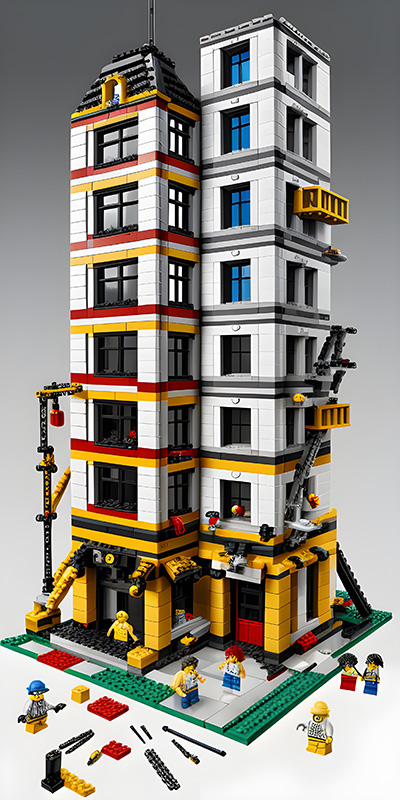 LEGO playsets have extensive variety of LEGO playsets, catering to different interests, ages, and skill levels.
LEGO City: Includes sets like Police Stations, Fire Stations, Hospitals, and various city vehicles and structures.
LEGO Technic: Features advanced models with complex mechanical parts, such as sports cars, cranes, and excavators.
LEGO Star Wars: Offers sets based on the Star Wars movies, including iconic spaceships, characters, and scenes.
LEGO Harry Potter: Includes sets inspired by the Harry Potter series, such as Hogwarts Castle, Diagon Alley, and Hagrid's Hut.
LEGO Friends: Focuses on the everyday lives and adventures of five friends in Heartlake City.
LEGO Ninjago: Features sets based on the Ninjago animated series, including dragons, temples, and ninja vehicles.
LEGO Super Heroes: Offers sets based on popular superheroes from Marvel and DC Comics.
LEGO Creator: Provides 3-in-1 sets that allow for multiple building options, including animals, vehicles, and buildings.
LEGO Architecture: Includes sets that allow you to build famous landmarks and architectural wonders.
LEGO Disney: Features sets inspired by Disney movies and characters, such as Frozen, Cinderella's Castle, and Mickey Mouse.
LEGO Jurassic World: Offers sets based on the Jurassic Park and Jurassic World films, including dinosaurs and park facilities.
LEGO Minecraft: Includes sets that bring the popular video game Minecraft to life in LEGO form.
LEGO Speed Champions: Features sets based on real-world sports cars and racing teams.
LEGO DOTS: Focuses on arts and crafts, allowing children to create their own jewelry and decorations.
LEGO Art: Offers sets that allow adults to create wall art based on famous artworks or pop culture icons.
LEGO Ideas: Includes unique sets inspired by fan submissions, such as the Ship in a Bottle, NASA Apollo Saturn V, and more.
LEGO Education: Provides educational sets that promote STEM learning in classrooms.
LEGO DUPLO: Designed for younger children, with larger blocks and simple construction themes.