Light Bright Cube - Lite Brite
Make Your Pictures Pop with Lite Brite Cube by Playskool.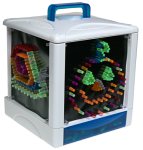 With the Light Bright Cube, Hasbro quadruples the fun for young artists who can create and save up to three pictures while they work on another - or they can have as many as three friends join in the fun! The new Light Bright Cube features four canvasses for kids to create light up pictures. The Light Bright Cube is recommended for children ages 4 and up. It features a carry handle and two-peg storage drawers that let kids bring the fun along with them wherever they go. Light bulb, 500+ pegs (including 30 POWER PEGS), 8 design pictures & 2 free-form sheets are included.
Hasbro's Lite-Brite Cube elevates the traditional Lite-Brite experience by providing multiple sides on which artists can create, making it an excellent choice for a party game. Unlike the original Lite-Brite, where only one person can create a design at a time, the cube format allows for multiple players to engage simultaneously, each on a different side of the cube. This collaborative feature turns art creation into a more social and interactive experience, making it ideal for gatherings. The cube serves as a centerpiece that can be surrounded by players, fostering a sense of community and shared creativity. It also encourages friendly competition or cooperative storytelling as artists can either challenge each other to create the best design or work together to make interconnected images. The tactile and colorful nature of Lite-Brite appeals to both kids and adults, making it a versatile choice for parties. In summary, the Lite-Brite Cube enhances the artistic and social aspects of the classic game, making it a hit for group activities and parties.