Light Bright Cube - Lite Brite
Make Your Pictures Pop with Lite Brite Cube by Playskool.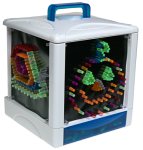 With the Light Bright Cube, Hasbro quadruples the fun for young artists who can create and save up to three pictures while they work on another - or they can have as many as three friends join in the fun! The new Light Bright Cube features four canvasses for kids to create light up pictures. The Light Bright Cube is recommended for children ages 4 and up. It features a carry handle and two-peg storage drawers that let kids bring the fun along with them wherever they go. Light bulb, 500+ pegs (including 30 POWER PEGS), 8 design pictures & 2 free-form sheets are included.