Lite Brite - Light Bright Toy
The classic game that never goes out of fashion.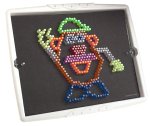 Everything you need to create lite brite designs, including actual lite brite unit. Peg refills and picture refills for hours of lite brite fun.
The Lite Brite toy is a classic and captivating toy that has brought joy and creativity to generations of children and adults. With its unique design and colorful pegs, Lite Brite allows users to create glowing pictures and designs that come to life with light. Here's why Lite Brite continues to be a cherished toy that unites generations:
Timeless Appeal: Lite Brite's simple yet engaging concept has made it a favorite across different age groups. Its appeal transcends generational boundaries, making it a toy that parents and grandparents enjoy sharing with younger family members.
Creative Expression: By placing colorful pegs into a backlit grid, users can create endless patterns, pictures, and designs. This encourages creativity, artistic expression, and individuality, allowing each person to make their unique masterpiece.
Educational Value: Lite Brite offers educational benefits by helping children develop fine motor skills, color recognition, spatial awareness, and problem-solving abilities. It's a fun way to learn and grow through play.
Nostalgic Connection: For many adults, Lite Brite evokes fond memories of childhood play and artistic exploration. It serves as a nostalgic link to the past, fostering connections between generations as they reminisce and create together.
Social Interaction: Lite Brite encourages collaboration and social interaction. Families and friends can work together on designs, share ideas, and enjoy quality time bonding over a shared creative experience.
Therapeutic Qualities: The calming glow and satisfying process of creating with Lite Brite have therapeutic qualities. It offers relaxation and stress relief, making it a soothing activity for individuals of all ages.
Adaptability: With various templates and the option for freeform design, Lite Brite caters to different skill levels and artistic interests. It's a versatile toy that can be enjoyed by beginners and seasoned artists alike.
Inclusive Fun: Lite Brite's accessibility and inclusive design make it a toy that can be enjoyed by people with diverse abilities and needs. It's a source of joy and creativity for a wide audience.
The magic of Lite Brite lies in its ability to inspire, connect, and entertain across generations. It's more than just a toy; it's a symbol of shared creativity, family bonding, and timeless enjoyment. The glow of Lite Brite continues to shine brightly, illuminating hearts and minds and bringing people together in a celebration of art, play, and togetherness.