Little Tikes Big Building Blocks
Awesome giant building blocks.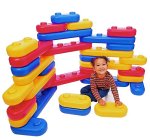 This 33-piece giant block set is a versatile playroom must-have. Its large red, yellow, and blue pieces are made of soft, hollow plastic and are lightly textured for better gripping by small hands. The blocks come in two sizes for creative stacking and building options. And, just like smaller interlocking blocks, these huge pieces feature pegs that allow kids to build structures with a diversity of angles and extensions. The set's sturdy cardboard box can be kept and used for storing the blocks after play. If kids can imagine it they can build it life size with these giant interlocking blocks! Durable yet lightweight, kids can use these indoor/outdoor squishable blocks to build castles, robots or forts and then knock them down with ease. Pegs allow blocks to rotate around and assemble at any angle.
Giant interconnecting building blocks offer a larger-than-life twist on traditional building sets, making the construction process an immersive and highly engaging experience for children. The oversized dimensions add a tactile, almost life-sized component to playtime, allowing kids to literally step inside their creations, be it forts, tunnels, or towers. This sense of scale elevates the imaginative possibilities, from building an elaborate castle to creating a maze that fills the entire room. Besides the fun aspect, these blocks also offer developmental benefits, encouraging spatial awareness, problem-solving, and fine motor skills as kids figure out how to interlock the blocks in various configurations. When playing with others, the blocks also promote teamwork and social interaction. The sheer size of these blocks can make every build feel like an adventure, adding a level of excitement and accomplishment that's hard to match with smaller sets.