Loaded Questions Game
A great way to get to know each other better.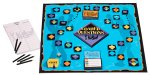 A party game that tests players on how well they know each other with more than 500 creative and hilarious questions. Loaded Questions comes with over 500 crazy questions, six pencils, one die, six game pieces, a score pad, and a cool board. Loaded Questions is the hilarious new board game that tests players on how well they know each other with over 500 fun personality-filled questions.
The Loaded Questions board game serves as an exhilarating whirlwind of laughter, suspense, and bonding. Imagine sitting around a table with friends or family, waiting eagerly for the next question that prompts everyone to reveal amusing anecdotes, hidden preferences, or even secret confessions. The game cleverly combines elements of humor, strategy, and a touch of unpredictability, as you try to match answers with players and delve deeper into each other's personalities. Whether the question is light-hearted or thought-provoking, the answers are always revealing and often hilarious. It's the perfect game for social gatherings, offering an interactive and engaging way to get to know people on a different level while having an incredible amount of fun. With Loaded Questions, every round is a new adventure in discovery!