Lord of The Rings Action Figures
The Lord of the Rings Return Of The King Deluxe Beast and Rider Set: Legolas with Horse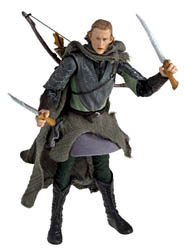 Definite collector's items for all lovers of Lord of the Rings, young or old.
Character Representation: The action figures were designed to represent key characters from the franchise, including Frodo, Gandalf, Aragorn, Legolas, and many others.
Attention to Detail: These figures were known for their intricate details, capturing the unique characteristics, costumes, and weapons of each character.
Collectible Sets: Various sets were released, allowing fans to collect characters from specific scenes or battles within the movies and books.
Playsets and Accessories: Along with individual figures, playsets representing iconic locations like Helm's Deep or the Mines of Moria were created, enhancing the play experience.
Collaboration with Renowned Toy Manufacturers: Top toy companies like Toy Biz produced the action figures, ensuring high quality and wide distribution.
Appeal to Different Age Groups: The action figures were designed to appeal to both children and adult collectors, with some editions specifically targeted at collectors.
Special Editions and Limited Releases: Some figures were released as special or limited editions, often coinciding with movie releases or anniversaries, making them highly sought after by fans.