Action Figures
Plastic play figures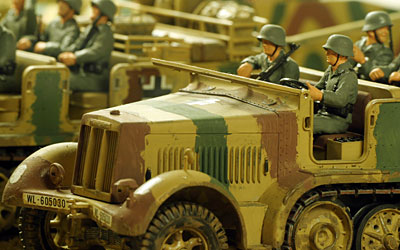 Bakugan Gundalian Invaders - Battle set with Dragonoid Colossus.
Batman the Brave and the Bold - Snap and attack, plastic man, and rubber neck.
Battle Ops Bumblebee - "Beloved Autobot changes from concept Camero to powerful opponent.
Ben 10 Ultimate Alien - Transforming image matrix.
Speed Stars Transformers - Autobots change from racing vehicles to platforms of fierceness.
Spiderman Triple Battle Truck - The ultimate Spidey vehicle - three in one.
Transformers Hunt for the Decepticons - Vehicles and action figures based around a theme of hunt and find.
Monster Truck Wresting Ring - Disney Pixar Cars action set.
Jurassic Copter - Matchbox mega rig building system for helicopter that converts to a hover craft.
Bakugauntlet - Bakugan Gauntlet - a new way to defeat the enemy.
Toy Story Pop-Open Play World - Extensive play area from the movie and toy classic.
Glatorian Legends - Lego Bionicle legend continues with Ackar, Mata Nui, Stronius, Vastus, Kiina, and Gelu.
Gormiti Series 2 Figures - Gormiti figures and trading cards are coming to America from Europe.
Mega Rig Pirate Ship - Over thirty different boat combinations from Matchbox.
Secret Saturdays Cryptid Claw - Grappling hook like extending arm.
Imaginext Bat Cave - Turn on the Batman adventure.
Bumblebee Helmet - Transformer RPM's mini vehicle showdown track set.
Transformers RPMs - Role-playing voice-synthesizing Transformers gear.
Bumblebee Blaster - Transformers Movie 2 robot plasma cannon.
Ben 10 Alien Creation Transporter - Combine alien body parts to make your own unique aliens; add alien figure packs to make millions of combinations.
Ben 10 Alien Creation Challenge - Set the time, build an alien; built it fast, or the aliens blast.
Bakugan Battle Brawlers - Magnetic marble action figure trading card game.
Ben 10 Galvanic Gunship - Initiating megamorph sequence.
Transformers Animated - Optimus Prime, Bumble Bee, and the Auto Bots are teaming up to take down the Decepticons.
UB Funkeys Dream State - The game that keeps growing.
Fantastic 4 Fantasticar modular space vehicle with Mr. Fantastic action figure.
Fusion Crew Challenge Dome mix and match your own challenger.
Super Stretch Mr. Fantastic fourteen inch Fantastic Four superhero action figure can stretch up to five times his size.
Buzz Lightyear's Electronic Spaceship light year space ship with electronic light-up engines and cool sounds.
Transforming Batmobile Gotham City Playset Batman Begins transforming action figure Gotham set.
Sound Patrol Power Rangers Power Ranger SPD action figures.
Mech Wreckers Teenage Mutant Ninja Turtles M.E.C.H. Wrekkers action figures.
Turtle Combat Warriors Teenage Mutant Ninja Turtles Don, Leo, Mike, Raph, and Shredder action figures.
GI Joe Sigma 6 action figure scale commando with articulation and accessories.
Marvel Megamorphs Marvel Mega Morphs Spiderman, Wolverine, Hulk, Captain America, Doc Ock, and Ghostrider.
Transformers Cybertron change this toy heroic warrior from ferocious lion to brave Autobot hero and back again.
TV-Activated Batmobile Batman vehicle receives real-time signals from the animated television show via Batwave interactive technology.
Ninja Action Turtles flipping and kicking Donatello, Leonardo, Michelangelo, Raphael teenage mutant figures with break-away wall.
Spiderman and Friends Superhero Playset preschoolers pump air into a chamber that powers an elevator, launcher, and slide web.
Thunder ATV Power Ranger all terrain vehicles modeled after the show with stunt capable action figures and forward projectile launchers.
Teen Titans Battling Machines Cyborg, Beast Boy, Thunderbull, Robin, and Raven with vehicles and accessories.
GI Joe Valor vs Venom talking action figures that shout out play battle commands fully equipped with helmet communicators.
Spiderman Stunt System interlocking magnetic pieces form various city scenarios in which the superhero swings.
Transformers Energon action figure cartoon characters with toy robot and boat and accompanying comic books and collector cards.
Microids pocket toy action figures play in a struggle to save the earth.
Sewer Lid Launcher Teenage Mutant Ninja Turtles motorized vehicle shoots plastic discs.
Teen Titans Toys - Bandai and Warner Brothers Unveil Teen Titans Toyline
Action Man travels the world and battles evil on the side as he leads a dual existence as champion athlete and global guardian.
Aqua Rescue Command Center - Rescue Heros - This Aquatic Rescue Command Center is the central gathering place for Rescue Heroes awaiting their next task.

Batmobile Vehicle

Battle Scarred Gundams

BTR Transformers

Dragonball Z Action Figures

Dragonball Z Time Capsule - Dragon Ball Toys - Dragonball Z Time Capsule description and purchasing information.

Extreme Turtles

George W Bush Elite Force Aviator

GI Joe - Dragonball Z Action Figures description and purchasing information.

GI Joe Cobra Spytroops

GI Joe Navy Seals Collection

Justice League Figures

Lord of The Rings Action Figures

Major Powers and the Star Squad

Mary Kate and Ashley Super Spa Day

Max Steel Action Figure - Max Steel is the ultimate secret agent with cool, high-tech accessories. Each figure is approximately 12 inches high with super articulation and incredible detailing.

Monster Shootout

Pocket Neo Pets

Power Rangers Mobile Control Center

Power Rangers Ninja Storm

Power Rangers Time Force - When villains wreak havoc in both the past and future, only one thing can stop them: the Power Rangers Time Force. This team of super teens is the galaxy's best defense against evil forces.

Rescue Heroes, Rescue Heros Action Figures, Toys, Cartoons, Pictures, DVDs, Videos - Wherever there's danger, Voice Tech Rescue Heroes figures are there to save the day!

Rescue Heroes Mountain Action Command Center

SD Superior Defenders Action Figures

Spiderman Skyrider Playset - Spider-Man Sky Rider Play Set.

Teenage Mutant Ninja Turtles Toys and Games

Teenage Mutant Ninja Turtles Motion-Activated Toys

Transformers Armada - Transformers: Armada Gigacon Megatron with Mobile Artillery Truck by Hasbro

WWE Action Figures

Yu-Gi-Oh Launcher Spider Vehicle