Loving Family Dollhouse Dolls
Loving Family Dollhouse Information.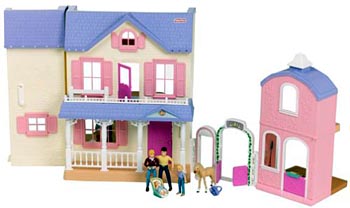 The popular Loving Family can now enjoy a laid-back country lifestyle, with a big, three-story house complete with an attached two-story stable. The six-room house has one side open for free play, with the opposite side including a lavender roof, big porches, windows, and working doors. Realistic stickers are included to add to the house for rugs, plants, and pictures. The two-room barn attaches to the side of the house with a gated archway, or the barn and archway can be positioned separately away from the house. The Loving Family included with this set has a father, mother, little girl, and baby, along with a cute pony that neighs quite convincingly whenever it gets near one of the family members. The sturdy dolls have jointed arms and legs so they can sit, and the little girl can really ride on her pony. A couch, table, and lamp are included, along with a food trough and brush for the pony. Other furniture and accessory sets and additional dolls are available separately.
The allure of a dollhouse with an attached pony stable taps into a multifaceted world of imagination that is irresistibly enchanting to children. On one hand, the dollhouse provides a realm for domestic creativity, where kids can arrange furniture, enact daily life scenarios, and explore familial relationships. On the other hand, the pony stable adds an extra layer of excitement and adventure, creating a unique blend of indoor and outdoor worlds. The ability to care for and ride ponies in this imagined setting invites themes of responsibility, love for animals, and the joys of outdoor activities. Whether hosting a tea party in the living room or saddling up for a pony ride, this combined playset offers endless possibilities for storytelling and role-playing. It's the perfect fusion of two beloved play themes, making it an ideal gift that promises hours of inventive fun.