Magic 8 Ball Party Game
Question answering fun in a board game.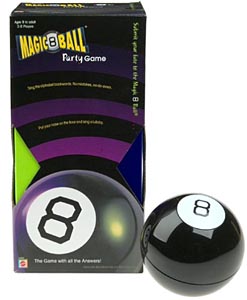 Itís hard to believe that the cue ball with mystical powers has been around for more than a half a century. Thatís right, the Magic 8 Ball is celebrating its 55th anniversary in an entire new format with the ridiculously unpredictable Magic 8 Ball Board Game, which combines the question answering fun of the original Magic 8 Ball with the excitement of a board game. The Magic 8 Ball Board Game features include four categories of 88 Fortune/Fate question cards with challenges of physical, mental, sequence and Crazy fun, and a Magic 8 Ball that doubles as a timer. The mind-numbing hilarity will have players rolling on the floor, literally. Players will want to hold onto their tokens because the Great Eight Potentate in round two dictates the price players must pay to win back lost tokens. Players win by being the first to earn back all of their tokens.
The Magic 8 Ball Board Game offers a unique blend of unpredictability, nostalgia, and sheer entertainment that makes it a hit across age groups. Imagine sitting around a table with friends or family, taking turns asking questions, shaking the iconic black orb, and waiting with bated breath for the answer to reveal itself. Unlike many board games that require complex strategies or specific skills, the Magic 8 Ball game is delightfully straightforward yet endlessly intriguing. The answers from the 8 Ball can be amusingly vague, hilariously direct, or mystically ambiguous, adding an element of suspense and humor to the gameplay. Whether you're seeking advice on a pretend life decision or asking questions just for laughs, the game ensures a rollicking good time. It taps into our fascination with fortune-telling and the unknown, making each turn an adventure in itself. Simple, fun, and a little magical, the Magic 8 Ball Board Game is an evergreen choice for social gatherings and family game nights.