Magic Megan Doll
A sweet, affordable doll.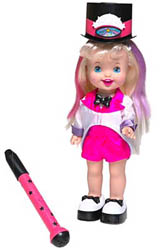 Ah, the lure of a magic show--a lot of kids want to be magicians, but somehow those tricks can be awfully hard to pull off successfully. Magic Megan solves this difficulty for budding little girl magicians. She's 14.5 inches tall from her attached plastic top hat to her platform-soled shoes, which are both components of her magic act. A star-sprinkled, magnetic magic wand initiates most of the tricks, including pulling a stream of rabbits out of her hat, changing the color of the sides of her waist-length blond hair, and making a star tattoo appear on her cheek. Tiny 'magic boxes' fit in Megan's shoes and pop out with a touch of the 8-inch wand, which also has a 'ta-dah!' sound effect. Megan's magic tricks are powered by three button-cell batteries (included), and a removable portion of the wand that must be placed in the freezer to make some of the tricks work. Gimmicky, but entertaining (just like a good magician).
Pretending to be a magician taps into a child's natural love for wonder, mystery, and the joy of surprising others with the 'impossible.' At its core, magic represents a bending or breaking of everyday rules—a notion utterly fascinating to young minds that are just getting to grips with how the world works. When children don the magician's hat and wave the wand, they step into a role that empowers them to captivate an audience, be it their family, friends, or even stuffed animals lined up in a row. This sense of empowerment is particularly appealing, offering them a chance to be the one in control, creating awe and wonder. Practicing magic tricks also involves focus, patience, and a bit of problem-solving, all valuable skills wrapped in an exciting package. The reveal of a successfully performed trick leads to faces filled with astonishment and applause, offering immediate gratification and a boost of self-confidence. The act of performing magic allows children to explore creativity, dexterity, and the delightful realm of fantasy, making it a timeless and captivating form of play.