Magical Friend Barney Magic
Barney is a fantastic friend filled with lots of lights and love.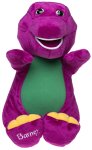 Barney's belly lights up as he sings & dances in 4 fun play modes. In Song Mode, Barney sings 3 songs while music notes appear on his tummy. In Dance Mode, Barney dances to 3 songs while his belly is illuminated with swirls of light. In Play Mode, Magical Friend Barney asks questions as stars shine on his tummy and in Hug Mode, Barney asks for big hugs as a heart lights up on his belly. After 3 play patterns, Barney sings the 'I Love You' song and displays a fantastic light show of different colors, patterns and illuminations. With 4 fun play modes, many beautiful lights and great songs to sing & dance to, Barney is sure to be every child's best friend. Youngsters who can't get enough validation from the large purple dinosaur will be thrilled to spend time with Magic Friend Barney. The bright plush reptile sits about a foot high, with short feet and arms stretched outward. Buttons in his feet, hands, and back trigger one of three actions when pressed and make his green belly light up with blinking hearts, music notes, stars, and more. Press the buttons in his toes and Barney will ask you to dance with him and proceed to play about one minute of music. Pressing his hands encourages a sing-along to either I Love You, If All the Raindrops, or Everyone Is Special. Giving the dino a big squeeze activates the hug sensor in his back and inspires him to vocalize all sorts of things about love and friendship. While there is no volume control, he isn't overly loud, thanks to his ample cushioning. And once a child puts him down, he automatically shuts off to help conserve the battery power (three AAs are included).
Barney the Purple Dinosaur has been a cherished figure in children's entertainment for years, capturing young hearts with his friendly demeanor, catchy songs, and invaluable life lessons. One of the key reasons children adore Barney is his unconditionally loving and cheerful personality; he represents a constant source of comfort and joy, much like a real-life affectionate, non-judgmental friend. His vibrant purple color is visually engaging to young eyes, making him instantly recognizable and inviting. The show's simple yet profound messages often revolve around themes like friendship, sharing, and kindness—principles that are foundational in early childhood development. Adding to the magic are the sing-along songs that are not only entertaining but also educational. These tunes make learning fun and memorable, from the ABCs to basic manners and social skills. Barney creates an inclusive environment where all are welcome, and his adventures often whisk children away to imaginative lands, encouraging them to explore the world around them with a sense of wonder and excitement. In essence, Barney the Purple Dinosaur embodies the purest elements of childhood—love, curiosity, and the joy of discovery.